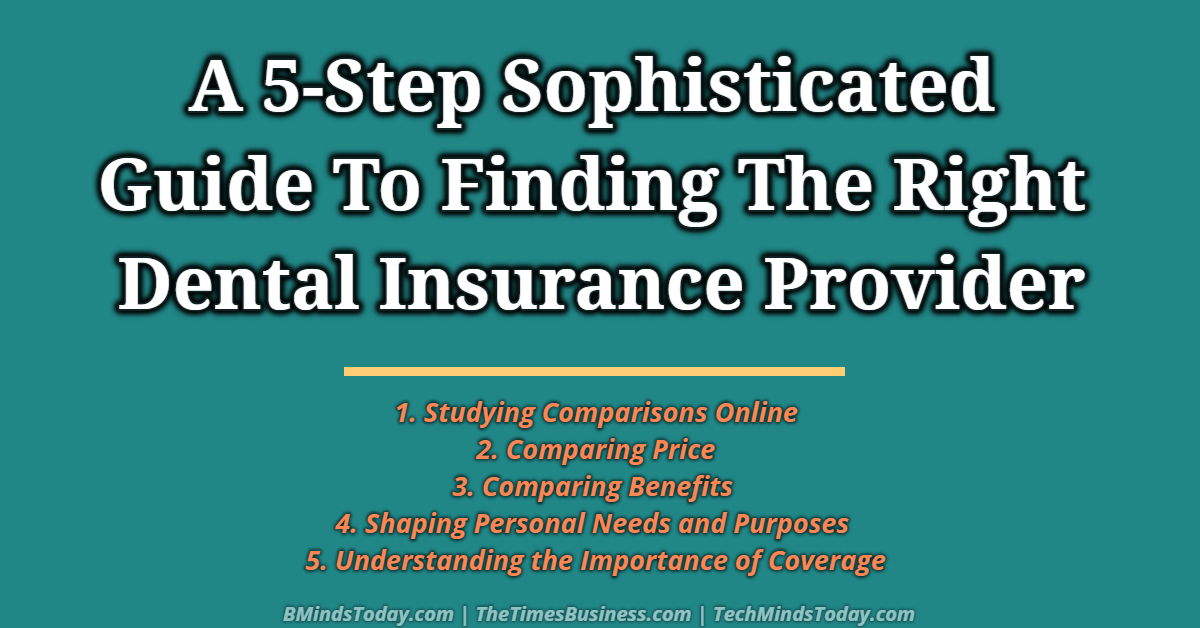 Dental insurance is designed to pay a percentage of the costs associated with dental care. There are different types of dental insurance plans such as individual coverage, family coverage, or group coverage dental insurance plan.
With so many dental insurance plans to choose from it can be a difficult task to determine which plan is well-suited for your individual needs or the needs of your family or employees. And to remind, all these needs are tremendously important, as the dental care should never be ignored.
Since it involves several complications to decide on, we here are presenting you the best techniques that may actually give you a better idea in choosing the ideal plan to meet your needs.
1. Studying Comparisons Online
If you consult a trusted or well-known insurance broker, you will most likely get different options pertaining to dental insurance plans. The brokers or agents who are popular in the market can provide you with several options to choose from.
However, if you do an online comparison of companies and dental insurance options by your own, you then can understand the exact price variations between rivalries. This process will eventually lead to flexibility and competitive price in coverage selection.
The available plan types are enormously varied and an online comparison can allow you to see what a plan will and will not be able to do.
2. Comparing Price
Making price related comparisons among insurance products and service providers involves a little bit of research. It may be simple to make a quick decision based on a simple query, however, if you are seeking a competitive deal you then should need to do some research on prices and other deals. When you ask an insurance broker there may be a chance to get substitute selections that can decrease the overall cost.
Yet again, by using an online comparison, you may be able to view all options and all price ranges. This approach can provide information that can help you select a plan that suits your budget.
3. Comparing Benefits
There are several 'benefits' related questions that you should consider when purchasing a dental insurance plan. Here are a few questions to consider.
i) Will I be able to choose my own dentist?
ii) Are there any specific dates and times that a dentist may restrict visits by individuals that are a part of a particular plan?
iii) Do I need insurance with co-pay?
4. Shaping Personal Needs and Purposes
While considering an insurance plan, you must ask yourself if certain components in that particular plan really a need or want.
A Clear, Simple and Practical Guide To Accepting Credit Cards On eCommerce Stores

A Strategic Guide To Understanding & Analyzing Web Traffic | Visitors Vs. Hits
You should also determine what exactly your purpose or objective is in obtaining dental insurance. When you have a clear understanding about motives and needs, you then will be in a better position to select an appropriate plan.
5. Understanding the Importance of Coverage
How Internet Banking Firms Practice Security Measures To Keep Online Banking Safe

A Guide To Understanding The Basic Consumer Rights in Internet Banking
Once you get the point that a dental insurance plan removes the barrier to oral health and that better-quality oral health is connected to better-quality physical health, a dental insurance plan starts to make a clear sense.
Like any other major medical insurance, dental insurance too provides a means of handling the growing costs of dental care. In some cases, consumers get tax deduction for dental insurance premiums.
Disclaimer

This information is for Learning purposes only. We are indeed not financial/legal/health mentors. It should not be considered legal or financial or health advice. You should consult with a financial/legal/health advisor or other professional to find out what may be the optimum for your individual needs.

Please do your own research.