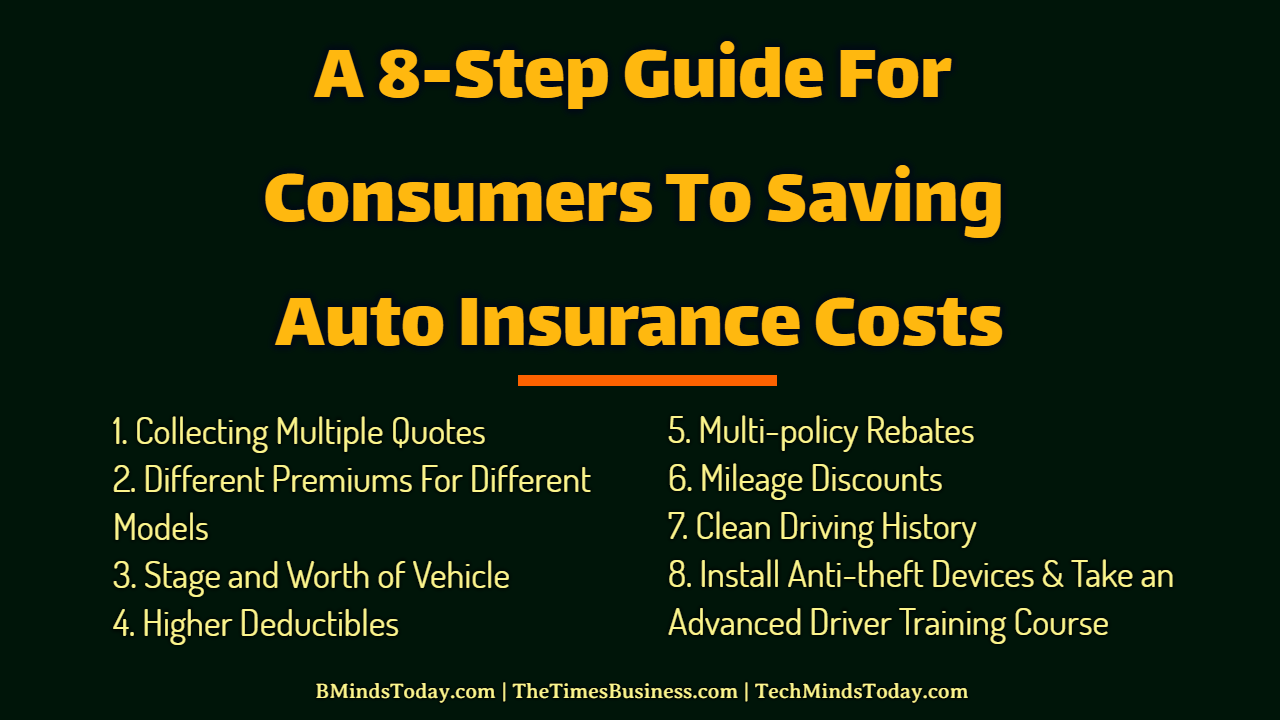 The auto insurance also known as vehicle insurance, car insurance, motor insurance or automobile insurance is insurance for cars, trucks, motorcycles, and other road vehicles.
The primary use of auto insurance is to provide financial protection against physical or vehicle damage resulting from traffic accidents.
Vehicle insurance may in addition offer financial protection against theft of the vehicle, and against damage to the vehicle sustained from events other than traffic collisions, such as weather conditions or natural disasters, and damage sustained by colliding with immobile objects. However, the insurance is purely base on the type of coverage a consumer willing to choose.
Auto insurance is required, but it's not compulsory to pay more than you have to. It's all about assessing your needs and then make a decision. If you assess your needs effectively and if you do some online search for different options available in the market, you then can get better insurance deal.
However, we here in the following section are presenting you the SEVEN best and simple ways to get the finest possible auto insurance deal.
1. Collecting Multiple Quotes
In order to have a better understanding about the offers available in the market from different service providers, collecting quotes from different sources about the prices and other offers of the insurance providers is a great approach.
As a consumer, you better get multiple quotes from multiple agencies. You can do this by simply using the internet. Once you get the list of brokers, you then call some of the popular or well-known brokers to gather some good comparison quotes.
Remember to collect different types of quotes e.g. one from a direct-sell insurance company; another from an offline broker who keeps a database of quotes; and a few from the internet.
Keep it in mind that low-priced quote might not necessarily mean the finest. You should find appropriate answers for the following questions.
Will they pay out honestly if you make a claim?
How secure they are when it comes to Finances?
How reputable those companies are?
For a better fact-check you can use your networks including family members, colleagues, friends, and online assessments.
2. Different Premiums For Different Models
Insurance coverages cost vary depending on the model or type of the car. Clearly, that $100k sports model costs more to insure than your average small vehicle.
If you are planning to buy a brand-new vehicle, don't overlook to check insurance costs before you make a purchase.
3. Stage and Worth of Vehicle
Maybe you are considering to buy a used car. Maybe the value of your car was much better a few years ago. May be the value right now much lower than before.  If this is the scenario;
Why pay for overpriced auto insurance?
Why you need comprehensive coverage?
These are the questions you have to be asked. A good rule of thumb multiplies insurance premium by 10 and compares that number with the value of your car.
For instance, if you're quoted $2000 premium and your car is worth less than $20,000 you may want to think if comprehensive represents good value. If you drop collision and/or comprehensive coverage, you should get large savings.
4. Higher Deductibles
Several auto insurance establishments use deductibles to keep policy cost down. Deductibles, or excess charges, show what you pay before your auto insurance policy kicks in.
Take initiative to request quotes with different levels of deductibles and then understand how your quotes vary.
Generally, most internet quote forms comprise of a column where you can specify preferred level of deductibles. Don't hesitate asking your broker's recommendations.
For instance, going from $500 to $1000 deductible can slash your insurance costs by approximately 20% or more. Go to $2000 and you save a lot of money. But you must pay the deductible if you need to make a claim.
A Clear, Simple and Practical Guide To Accepting Credit Cards On eCommerce Stores

A Strategic Guide To Understanding & Analyzing Web Traffic | Visitors Vs. Hits
5. Multi-policy Rebates
It is very likely in the market that you may get an insurance break if you buy multiple policies with the same insurer or company.
This might mean multiple vehicles, or multiple insurances. However, you better ask your broker about multi-policy discount facilities.
6. Mileage Discounts
Maybe you are working from home. Maybe you don't do that much traveling. Maybe you only do a few business trips each year.  Maybe you do use public transportation to workplace.
If you belong to one of these cases, you then can ask about mileage discounts.
How Internet Banking Firms Practice Security Measures To Keep Online Banking Safe

A Guide To Understanding The Basic Consumer Rights in Internet Banking
7. Clean Driving History
A clean driving history always cuts your auto insurance costs. So, keep your driving license as clean as possible. Don't do speed driving.  It will help you to save a decent amount of money.
8. Install Anti-theft Devices & Take an Advanced Driver Training Course
The 5 Effective Approaches For Consumers To Get Automobile Insurance At Competitive Price

The 5 Best Strategic Approaches To Score A Great Deal In Automobile Insurance Price

A SMART Guide To Understanding The 5 Key Facts On Which 'Health Insurance Policies Are In Bad Economy'
By installing anti-theft devices to your car, you can get extra discount on premium.
Not only that you can also obtain extra benefits by taking an advanced driver training course.
If you consider all these approaches when shopping for auto insurance, you will for sure save substantial amount of money on auto insurance premium.
Disclaimer

This information is for Learning purposes only. We are indeed not financial/legal/health mentors. It should not be considered legal or financial or health advice. You should consult with a financial/legal/health advisor or other professional to find out what may be the optimum for your individual needs.

Please do your own research.