What Is a Business Plan?

A Business Plan is usually a written statement that explains and assesses your business and furthermore provides comprehensive projections pertaining to its foreseeable future.

A business plan additionally addresses the immediate and ongoing expenses of establishing or expanding your business-how much funds you require and how you will pay it back.

Why Write a Business Plan?

Writing or constructing a business plan is virtually all about telling at the same time selling your competencies, confidence, and creativity and so on in order to obtain sufficient support in areas including financial Resources.

There are several benefits you will derive from writing your business plan. It primary helps you in getting investments from the investors, and helps to improve business concept by enhancing the chances of success.

Key Factors of a Successful Business

The final motivation of developing a business plan is to successfully have a profitable business. In the end, it is pointless to construct a business plan that can bring up the Finances you are searching for if your venture is so inadequately developed it is bound to fail. For this reason, while you make your plan, make sure you consider the long-term goals associated with your business and formulate approaches that strengthen both the over-all operation of your firm and also your personal achievement.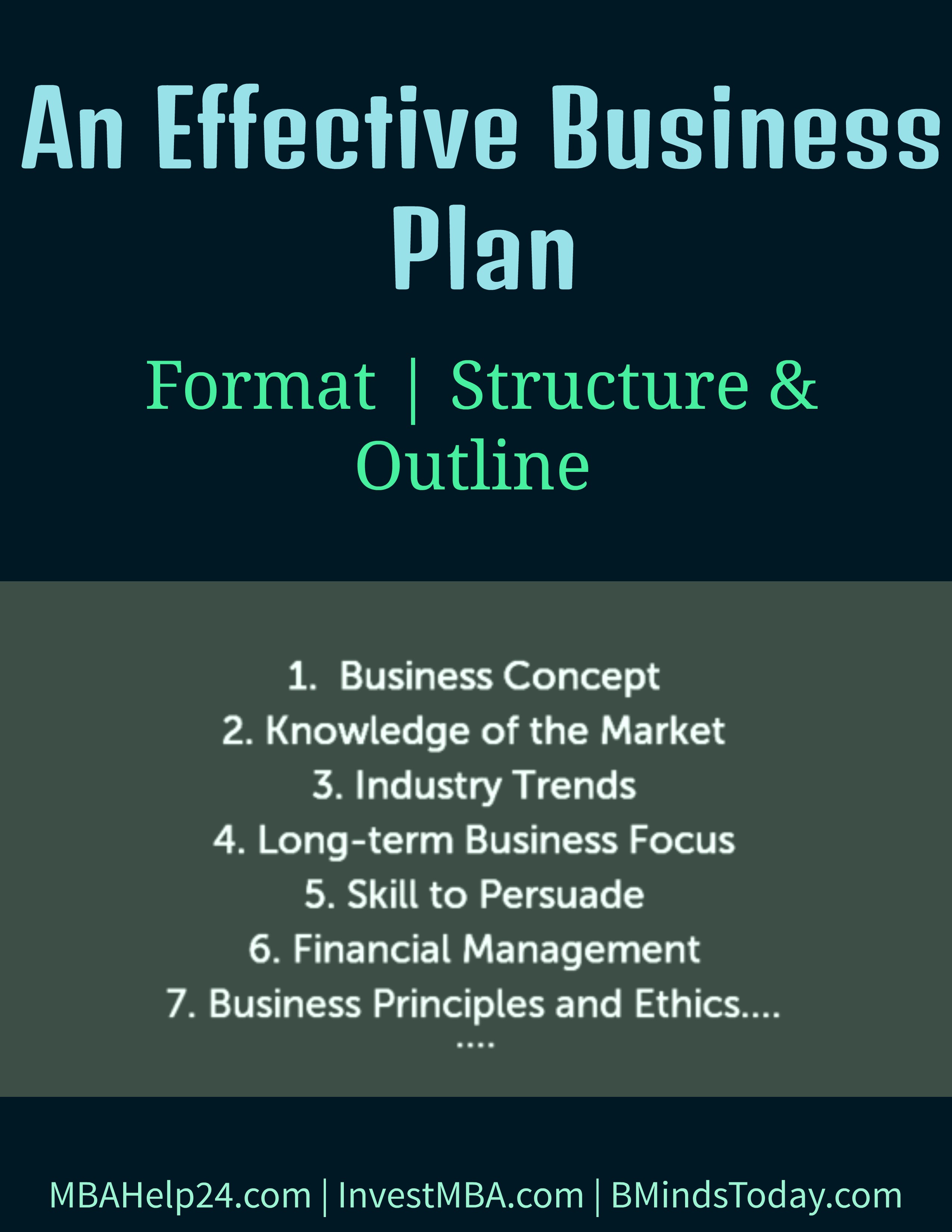 The factors stated below have the capacity to contribute most to business success:
The Business Concept
Knowledge of the Market
Industry Shape and Movements
Long term Business Focus and Distinct Strategic Position
Knowledgeable Management
Skill to Persuade, Promote, and Retain Workforce
Financial Management
Predicting and Adapting to Change for better
Business Principles and Ethics
Format & Outline of An Effective Business Plan
Brand/Heading/Title
Identify of business
Executive Summary
Business Idea or Concept
Market Possibilities
Management Power team
Distinct Expertise
Required Capital and its Purpose
Exit Strategy
Primary Chapters
I. Company Outline
Mission Statement
Overview of Experience
Present Stage of Progress
Capabilities
Services or Products (Description, Benefits to buyer, and Differentiation from current offerings )
Targets
Important factors to Success
Desired destination and Conveniences
II. Industry Study
Market Entry Obstacles
Supply and Distribution Challenges
Technological Components
Economic Impacts
Regulatory Challenges
III.      Market Study
Concise explanation of Overall Market
Market size and growth rate
Market movements
Market segments
Focused sections
Buyer Tendencies
Buyer Demands and decision-making approaches
Product or service positioning
IV. Level of competition
Details of major rivals
Competitors' Offerings and Market share
Unique Competitive Advantage
Competitive weaknesses
Prospective competition
V. marketing and Sales
Products and solutions offered
Pricing
Distribution
Advertising and Promotional Strategy
Sales team
Sales estimations
VI. Business Operations
Product or service development (Resources, Process, Costs and Risks )
Facilities
Major Suppliers
Product shipping
Customer service and assistance
Human resource plan
VII. Management and Setup
Management team
Key workforce
Organizational chart
VIII.   Capitalization and Framework
Legal structure
Present equity positions
Deal structure
Exit strategy
XI. Development and Milestones
Financial promises
Product development milestones (Model,  Screening, and Launch )
 Accomplishment of Break-even performance
Expansion
Additional funding
Any other significant milestones
 X. Risks and Contingencies
Raised competition
Loss of an important employee
Supplier's inability to meet due dates
Regulatory changes
Change in business environments
 XI. Financial Projections
Key Assumptions including commissions, tax rates,  inventory, sales, estimations, and so on
Financial statements which include balance sheet, Income statement, Cash-flow etc .
Break even analysis
Key ratio forecasts such as current ratio, quick ratio, working capital, return on equity, return on assets etc.
Financial Resources and strategy
XII.    Summary and Judgments
Appendices ( Management profile, Competitive study, Sales forecasts and any kind of supporting documentations ).