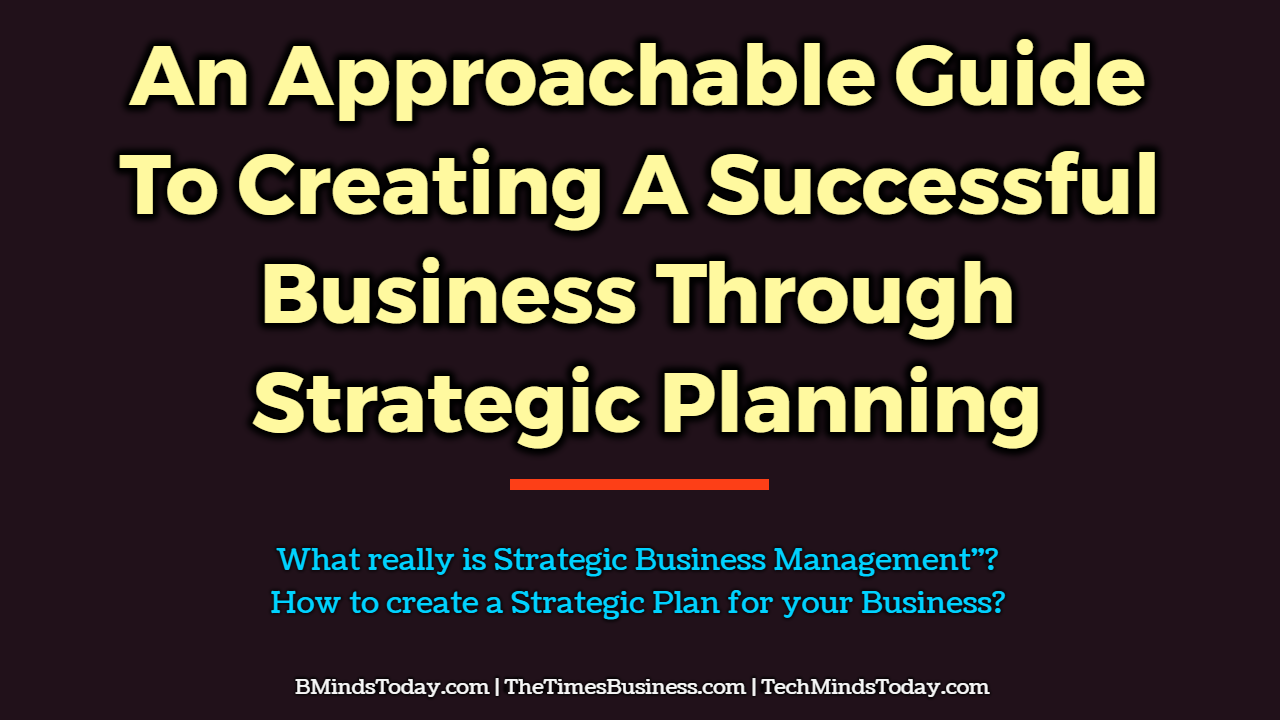 A successful business always involves an effective strategic planning and implementation. If you are already in a business, or are planning building a business, if you don't have a strategic plan yet, you then are in a chaotic situation.
An effective and efficient business plan suggests the approaches need to be taken and Resources need to be collected in the process of accomplishing tasks and achieving objectives.
Many successful business owners and entrepreneurs who have created and implemented a business Strategy generally work smart and produce a more sizeable income and profit margins. You will find, that in general, those who are successful with their own business, attribute their success to having a strategic plan.
What really is "strategic business Management"?
In its most fundamental method, it is the process in which the goals and objectives for your business are defined, and then an action plan is created. These are the fundamental driving forces to reach your business goals and objectives.
Now, you have to focus on developing a strategic plan.
How to create a strategic plan for your business?
 Developing a Great Vision Statement
The first and foremost step in the strategic plan is creating a clear vision. Any business owner should know, and be able to define in detail, the vision for his or her business. What is the image that you want your business to have in the market?
SIX Influential Advices to Building Testimonials That Sell Your Products or Services Fast

SEVEN Critical Facets of an Imaginary Logo Strategy
Creating values and principles
Any operating business should have clear and concise company values and principles.
Let's say, what are the key reasons that influenced you the most to start the firm? Are you here to serve the communities and protect the environment? Are you here to produce quality products or services at competitive prices?
And how do you do business responsibly? Do you care about your customers? If yes, how are you going to build trust?
These are the major questions you have to answer in values and principles section.
Designing Short-term and Long-term Goals
Every plan has some key objectives and goals. And every goal has a time-bound. It would normally be a good idea to create a 3 year and 5-year plan.
Any business should implement a long-term plan in which the basis is on broad objectives that will assist you in getting your business from where it is at the moment, to where you want your business to be.
A part from making long term goals, you also need to focus on short-term goals. Each and every year, you should create, define, and plan specific objectives and then work on those short-term objectives.
The Impact of Product Life Cycle & Customer Buying Behaviours On Strategic Advertising Practices

How To Create A Genuine and Professional Impression On Your Brand Through Strategic Advertising Campaigns

Relationships Vs. Business Decisions: A New Perspective In Strategic Advertising
The short-term goals will help you on the road to achieving your long-term goals. During the process of developing short-term and long-term goals, there are some key steps you need to consider.
When setting and planning your annual goals, you have to follow the SMART (Specific, Measurable, Attainable, Relevant, and Time-bound) approach.
The planning should include the following arguments:
–  Make sure they are very specific
–  Make sure they are measurable
– Make the goals realistic and attainable
– Make sure they are time-oriented
While writing business goals, make sure that you include a list of difficulties and barriers which could prevent your success from achieving your goals.
A Basic Guide To Receiving Online Payments From Payment Processing Firms

Patterns of Tasks & Innovative Possibilities: Here's What You Need To Know Advertising Agency Software

Here's How to Build Strategic Approaches with Online Advertising Agencies
A successful strategic plan should address the resources that require to accomplish the objectives.  Hence, create and define a list of resources you've already got, and the other resources which you will need to achieve your goals.
At this point, you should also create a concise action plan that clearly defines how you will actually achieve the necessary goals. If your business has any employees, it is of great importance to involve them with this part of the business planning process.
Forming Milestones and Benchmarks
In your business plan, you should create simple and concise milestones or benchmarks, that will define when you have actually reached a goal or objective. This is a vital part of the planning, as it will enable you to measure your evolution as a business.
Sharing the roadmap with team
After you have created your strategic business plan, it is highly important that it is shared with anyone who will be involved in the process.
Your annual business plan is the roadmap which will lead your business and those involved, to the goals which need to be achieved — but to be effective, everyone must end up at the same goals and objectives.
Taking action
There is no use having a well thought-out and planned strategic business plan, if you actually don't put it into action. Once the strategic plan is ready, it is time to get into action plan. This is where your journey begins.
Monitoring the progress
Checking the progress and making adequate changes according to requirements is a crucial step. Make sure you check and compare the progress of your business regularly, to the benchmarks defined in your business plan.
If something should go wrong with your business, the sooner you figure out what went wrong, or what is happening wrong, the sooner you can come up with brand new solution, make the necessary changes and get your business back on track.
Implementing Follow-up approach
This is the final step.  Make sure that you follow the same cycle every year. Make changes according to demand because your plan may need new objectives and resources.
Developing a business strategy and plan is not simply about achieving goals and objectives, it is more about creating value and making difference in the business community. Most importantly it is about making your business career enjoyable.
Disclaimer

This information is for Learning purposes only. We are indeed not financial/legal mentors. It should not be considered legal or financial advice. You should consult with a financial/legal advisor or other professional to find out what may be the optimum for your individual needs.

Please do your own research.