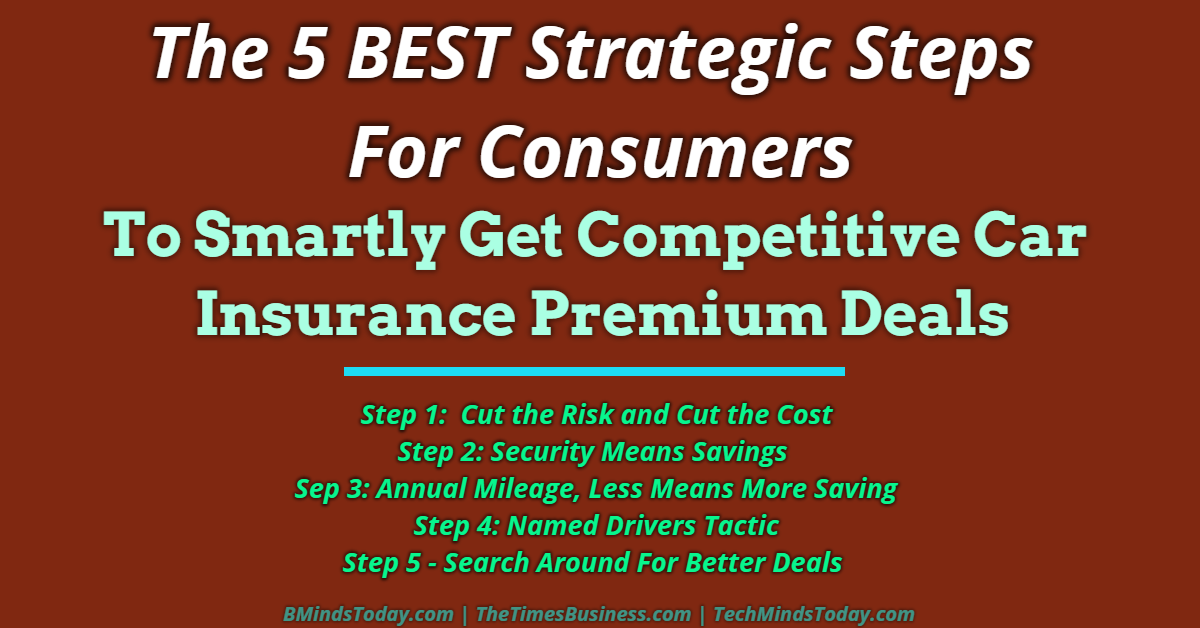 The automobile insurance also known as vehicle insurance, car insurance, motor insurance or auto insurance is insurance for cars, trucks, motorcycles, and other road vehicles.
The primary use of this particular insurance is to provide financial protection against physical or vehicle damage resulting from traffic accidents.
Vehicle insurance may in addition offer financial protection against theft of the vehicle, and against damage to the vehicle sustained from events other than traffic collisions, such as weather conditions or natural disasters, and damage sustained by colliding with immobile objects. However, the insurance is purely base on the type of coverage a consumer willing to choose.
Car insurance is obligatory, but it's not required to pay more than you have to. It's all about understanding your needs and requirements. If you assess your needs effectively and if you do some research on options available in the market, you then can get better insurance deal.
A few simple strategic steps combined with some time surfing for competitive car insurance rates really can save you serious money at renewal time.
Strategic Step 1:  
Cut the Risk and Cut the Cost
This is one of the solid yet simple way to cut your car insurance premiums. By cutting the risk and accepting a higher voluntary excess you can get lower car insurance premium.
An insurer's standard excess may be £200 but if you meet the first £500 of any claim, you'll grasp a reduction in your insurance premium. This is because you're taking on more of the risk so you get a discount.
However, it's involves some risk. Make sure you aware that you might have to meet the cost of a broken window after an attempted theft or a bill for repairing bodywork damage after a car park crunch.
Strategic Step 2:
Security Means Savings
Fixing security devices can also impact your car insurance premium rates. It may result in cheap car insurance premiums. Almost all major insurers insist on Thatcham rated security equipment, generally a minimum of an alarm.
If you live in a high-risk zone for car crime, it makes clear sense to fit extra security. This approach saves you money when your insurance renewal is due. Moreover it gives you extra peace of mind.
Strategic Sep 3:
Annual Mileage, Less Means More Saving
If your vehicle's annual mileage is, 5,000 miles or less, put a question in front of insurers if they offer discounts for agreed mileage limitations.
Strategic Step 4:
Named Drivers Tactic
Adding a named driver to your car insurance policy can increase or reduce your premiums depending upon the named drivers age, sex and driving record.
Adding a young driver will increase your premiums, predominantly with a poor driving history. However, adding a driver over 30 years old with a long and clean driving record can help you to get competitive premiums, specifically if the named driver is female.
A Clear, Simple and Practical Guide To Accepting Credit Cards On eCommerce Stores

A Strategic Guide To Understanding & Analyzing Web Traffic | Visitors Vs. Hits
Strategic Step 5:
Search Around For Better Deals
Searching around and getting an appropriate knowledge is perhaps a highly recommend approach in this particular arena. Generally, the biggest car insurance savings come from shopping around. There can be massive differences between the lowest and highest car insurance quotes for exactly the same car and driver(s).
In order to understand the market and receive best deals, you better perform some research. You can do it by using comparative online quotation sites. While searching around, make sure you take their best quotes. Once you are done with your research you then can go direct to the cheapest car insurance company for more specific quotes.
How Internet Banking Firms Practice Security Measures To Keep Online Banking Safe

A Guide To Understanding The Basic Consumer Rights in Internet Banking
So, researching and Learning is the key force to get better understanding about the insurance market including competitiveness, pricing differences, limitations and so forth.
When you consider all these factors during your search for an auto insurance, the chances will head higher to get the right cover at the competitive price.
Disclaimer

This information is for learning purposes only. We are indeed not financial/legal/health mentors. It should not be considered legal or financial or health advice. You should consult with a financial/legal/health advisor or other professional to find out what may be the optimum for your individual needs.

Please do your own research.