An organisation's overall competitive Strategy consists of the business approaches and initiatives it engages in to be able to catch the attention of new customers, hold up against the competitive environment and also strengthen its competitive market position.
Michael Porter found that an organisation's overall competitive Strategy consists of the business approaches and initiatives it engages in to be able to catch the attention of new customers, hold up against the competitive environment and also strengthen its competitive market position.
Porter explained that corporate strategies can be boiled down to be able to fit into three classifications.
Porter's Generic Strategies go along with three different approaches: low-cost Leadership, niche market, or differentiation.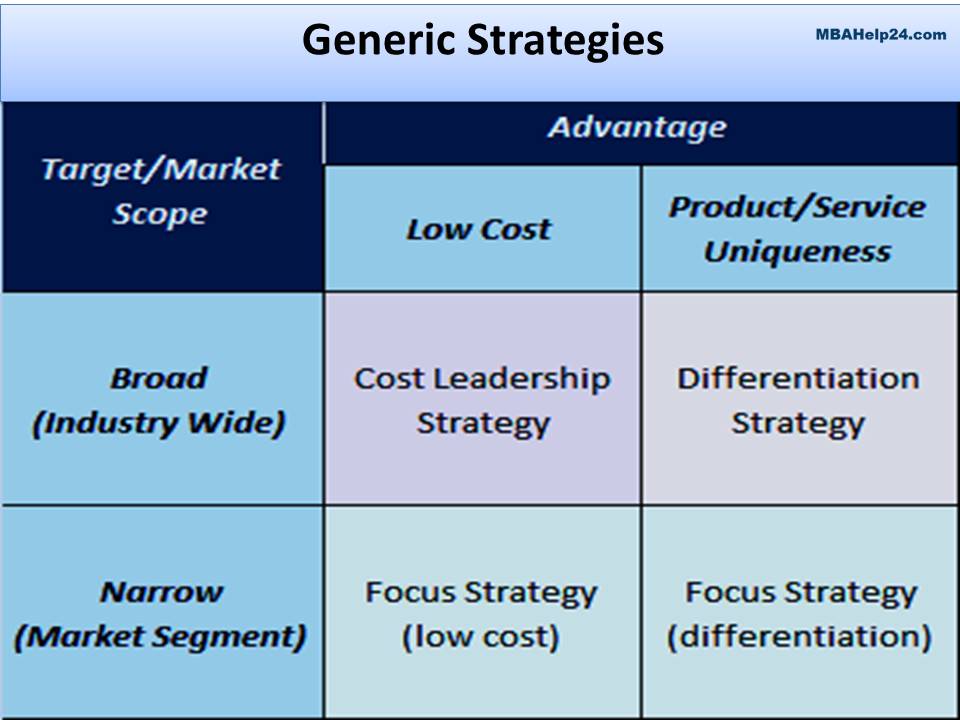 All these approaches make an effort to shape out a distinct market position in a strong try out to be able to obtain that portion of the market.
Even when two of these market positions put into practice to an extensive range of customers (low-cost Leadership and differentiation), the niche market can end up being highly effective through discovering a small yet successful part of the buyer market.
Strategy's Three Key Challenges ?

Beyond Formulation: Results-oriented Strategy Leadership?

Strategic Planning: Overview, Significance & Outcomes 

The Strategic Planning Process: A Fundamental View

Vision, Mission, Value & Objective Statements: What & What Not?
1) Cost Leadership
Cost leadership refers to having the best value at every level in the Industry.
This could signify obtaining the most cost-effective per-unit value among competitors in extremely competitive industries, whereby revenue will likely be low yet still better than rivals
Cost leadership can be described as defendable approach considering the fact that:
 This method protects the organization against powerful buyers. Potential buyers have the ability to force price down only to the degree of the other most powerful manufacturer or producer.
This method guards against strong suppliers. Cost leadership ensures range of flexibility to absorb a rise in input expenditures, while most of the rivals may not possess this specific range of flexibility.
The variables that cause cost leadership furthermore provide entry limitations in many cases. Economies of size need prospective competitors to enter the Industry with sizeable potential to produce, which usually means the cost of entry may be beyond reach to a lot of potential rivals.
Attaining a low cost position in most cases demands the following Resources combined with competencies:
Substantial up-front investment capital in new modern technology, which in turn eventually prospects to massive share of the market in the long-run, despite the fact that could possibly result in losses in the short-run.
Ongoing investment capital in order to keep up with cost advantage through economies of scale in addition to market share.
Continued innovation process to come across new ways to produce existing products.
Rigorous monitoring associated with workforce
2) Differentiation
Differentiating the product or service offering of a company means building something that is in fact recognized Industry wide as growing to be exceptional.
There are a number of approaches that will help differentiation:
Different design and style
Brand image
Number of selling points and features
Technological innovation
Differentiation is a defendable strategy in support of making higher than average returns for the reason that:
This method protects a company from highly competitive rivalry simply by building brand loyalty specifically where it brings down the price flexibility of demand.
Distinctiveness, practically by definition, creates barriers and significantly reduces substitutes. This leads to greater profit margins, which in turn minimizes the requirement for a low-cost advantage.
Bigger profit margins provide the organization possible opportunity to bargain strong suppliers.
Differentiation furthermore brings down  buyer power considering the fact that buyers at this point have much less alternate options.
Building an effective strategy of differentiation in most cases demands the following:
Robust marketing communications competencies.
Product innovation rather than process innovation.
Applied R&D.
Customer service network.
Significantly less increased exposure of incentive centered pay structure.
Competitive Advantage: Cost Advantage & Differentiation
3) Focus or Niche Strategy
Right here we are going to focus on a specific potential buyer group, product or opportunity segment, or geographical market.
Despite the fact that low cost and differentiation are centered on attaining their goals and objectives market wide, the focus or niche strategy is developed on the subject of covering a specific target (potential consumer, product or service, or specific location) effectively.
This approach results in a defendable position within that the majority of area of the market.
Five Forces Model: Summary, Significance & Framework
A Combination of Generic Strategies – "Stuck in the Middle"
According to Porter, an organization's lack of ability to make a choice between cost leadership and differentiation pretty much implies that the organization is stuck in the middle.
There is certainly no competitive advantage for an organization that is stuck in the middle and the effect can result in in many instances inadequate financial performance. Even so, there is conflict between scholars on the subject of this particular concept of the analysis. We in many cases can take a look at  very successful organizations such as Toyota and Benetton, which have adopted and implemented more than one generic strategy.
Porter argued that organizations that are able to succeed at multiple strategies often do so simply by building separate business units for each strategy. Through the process of breaking up the strategies into various units having different policies and even different cultures, an organization is less likely to become "stuck in the middle."
Nevertheless, there exists a perspective that a single generic strategy is not always most effective mainly because within the same product or service customers quite often look for multi-dimensional satisfactions for instance a combination of the level of quality, design and style, usefulness and  value.
There have been scenarios exactly where superior quality businesses consistently adopted a single strategy and then suddenly struggled significantly when another company got into the market with a lower-quality product or service that better fulfilled the overall needs and wants of the customers.