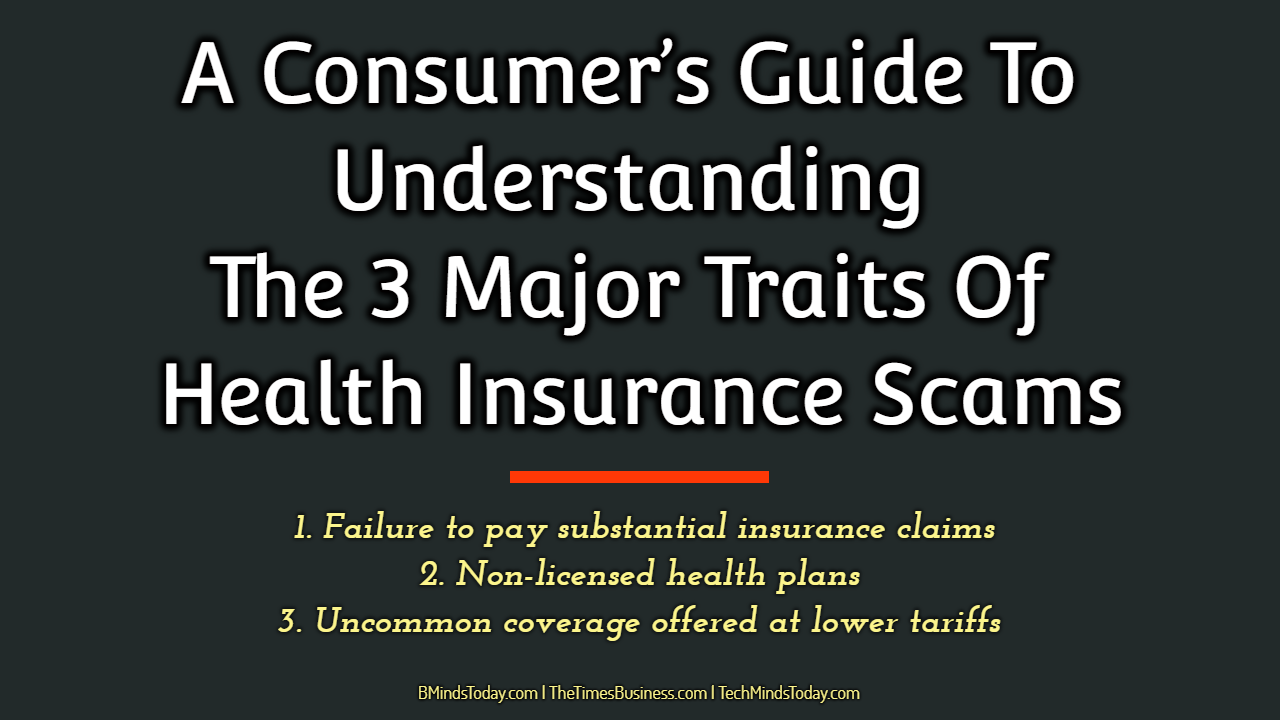 The expanding quantity of consumers embracing health insurance plans has led to the growing of scam health insurance providers. These sorts of providers prevalently target new people especially small-business owners, senior citizens and the other vulnerable individuals who can't negotiate competitive rates with legitimate insurers.
It is very important for consumers to cautiously comprehend the legitimacy of the insurance providers before they invest any healthy policy.
However, there are several approaches to identify these kind of illegitimate insurance companies. Here in the following section the THREE best ways that help to identify illegitimate insurance firms are being explained.
1. Failure to pay substantial insurance claims
Generally, dodge health insurance providers sign up an enormous number of people hurriedly by offering consumers money-spinning deals.
These category of insurance providers keep paying insignificant premium amounts and medical claims, but if there is a significant claim amount or regulators find their illegitimacy, these illegal firms disappear as if they never existed.
Thus, it is very important to beware whether or not you are getting delayed payments or your service provider is offering false explanations for the failure to make the payments. If you have signed up for these illegitimate plans, you may be liable for the medical bills of your employees as well.
2. Non-licensed health plans
If the insurance firm from which you have bought your health care policy is not licensed by State Insurance Commissioner (if you live in US), you can be in trouble.
If all the protections of insurance regulation do not apply on your service provider, then the particular insurance firm may be deceptive.
If this is your case, your service provider is probably scamming you by selling non-licensed health plans.
A Basic Guide To Receiving Online Payments From Payment Processing Firms

A Strategic Guide To Understanding Abandonment & Converting Visitors Into Premium Customers
Keep in mind that insurance agents in almost all the cases are not allowed to sell any legitimate ERISA (The Employee Retirement Income Security Act of 1974) or any kind of union plan as federal law governs them.
Therefore, if your insurance agent in US attempts to fool you by selling an ERISA or union plan, you should strictly avoid them and report them to your state insurance division.
The Factors That Strengthen The Odds Of Obtaining A Small Business Loan

A Guide To Understanding The Uses & Risks Of Payday Finances

10 Steps Consumers Should Always Take When Considering a Payday Loans
3. Uncommon coverage offered at lower tariffs
In any case when you are offered an uncommon coverage regardless of your health state and that too at lower rates and much more advantages in comparison to other insurance providers, it is a sign that they are fooling you. So, you have to beware that it's time to avoid those swindlers.
A Clear, Simple and Practical Guide To Accepting Credit Cards On eCommerce Stores

A Strategic Guide To Understanding & Analyzing Web Traffic | Visitors Vs. Hits
In any scenario don't give any sort of chance to those illegitimate agents to dupe you. Don't fall for lucrative offers, if you do you then can be taken for a ride.
The illegitimate insurance agents aim to amass massive amounts as quickly as possible, for that reason, they persuade consumers with lucrative deals to sell maximum number of insurance policies at unimaginable rates.
Disclaimer

This information is for Learning purposes only. We are indeed not financial/legal mentors. It should not be considered legal or financial advice. You should consult with a financial/legal advisor or other professional to find out what may be the optimum for your individual needs.

Please do your own research.