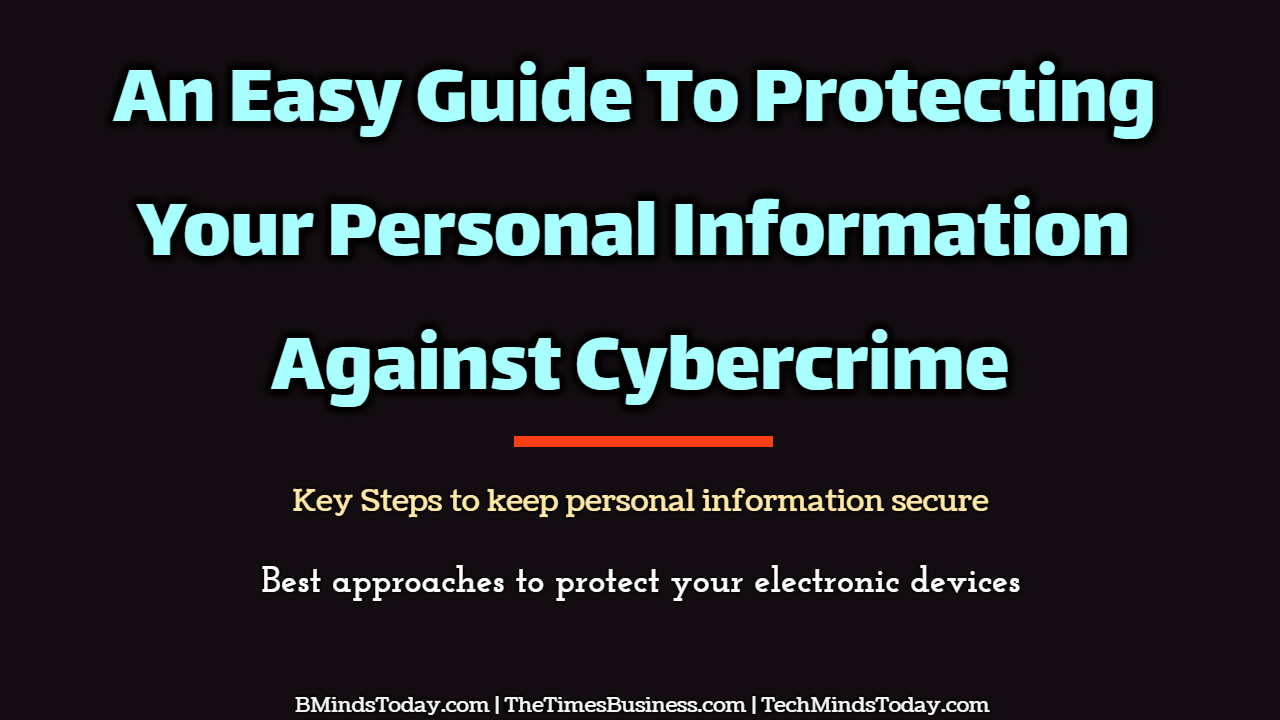 Internet nowadays is everyday life for so many people across the globe. As the usage of the internet grows the cybercrime numbers too follows. It is tremendously important to safe guard personal information from the cyber crooks.
There are number of crooks around the world that make a living exploiting the security loop holes by accessing your personal identity, PINs and bank accounts.
A great deal of people out there who are the victims of these crimes. You have a responsibility as a user of the Internet to take certain precautions to protect your data from cyber-crimes.
Internet users who access bank accounts, e-currency accounts or any source of personal information online, should always be aware of the following methods used by crooks to persuade you to disclose your private data.
Key Steps to keep personal information secure
Strictly avoid fraudulent email requests
This method is called "Phishing" and is a popular technique for crooks who are acting as legitimate businesses to steal your personal information.
This particular approach is frequently accomplished by sending you emails with hyperlinks to fraudulent websites made to look like the genuine ones. Once you have entered your information the culprit will have access to your account, many times unknown to you.
The best way to avoid falling victim to this sort of scam is to never provide any personal particulars in response to an email.
Remember that legitimate businesses will never request you for your personal data by simply sending email. Be aware of suspicious emails from unknown people.  Simply remove the email before opening anything that you think might be damaging.
Check properly before you visit a website
Make sure you visit your bank or financial website through your Internet browser with the right website address.
Avoid following any suspicion hyperlinks
You should pay attention suspicions hyperlinks.  Never follow any suspicious hyperlink or url. Strictly avoid opening any kind of unknown sources attachments.
The Impact of Product Life Cycle & Customer Buying Behaviours On Strategic Advertising Practices

How To Create A Genuine and Professional Impression On Your Brand Through Strategic Advertising Campaigns

Relationships Vs. Business Decisions: A New Perspective In Strategic
If you unintentionally reply to a "Phishing" email or respond to what you think could be a sham website, contact your associated financial institution immediately for guidance. Do not delay in looking for help. Check your financial account for any uncommon action.
Best approaches to protect your electronic devices
1. By strictly using a trusted and secure computer to access your Internet banking or any other financial accounts.
2. By avoiding publicly shared computers, such as those at Internet cafes for financial or any other important transactions.
3. By keeping your computer up to date with current anti-virus protection, firewall and the latest patches.
4. By updating the latest software so the protection remains current. After you install virus protection, updating the software is essential because it protects from malware attacks.
A Basic Guide To Receiving Online Payments From Payment Processing Firms

Patterns of Tasks & Innovative Possibilities: Here's What You Need To Know Advertising Agency Software

Here's How to Build Strategic Approaches with Online Advertising Agencies
5. By avoiding the sensitive features such as "remember my user name and password" feature.#
6. By making sure not to store your passwords and account information on your computer or any other electronic devices.
7. By using different password(s) for your banks or financial institutions than you would for your common email address.
8. By using strong passwords. Don't use easy to guess passwords, or passwords that closely relate to you or your birthdate.
9. By creating passwords that have both numbers and letters.
10. By making sure that you never leave your computer turned on.
11. By taking extra protections around Wi-Fi hotspots that provide free Internet connections. Coffee shops, Internet cafes, airports and libraries can pose significant security threats. Avoid conducting sensitive business in a Wi-Fi hotspot.
12. By confirming that that your data is encrypted between the bank and your computer by looking for the padlock symbol on the bottom right hand corner of the browser window. You should do this when you are accessing bank accounts online.
13. By closing your Internet browser after logging out at the end of each online banking session.
14. By avoiding suspicious 'pop-up' windows that open during an online banking or other sensitive activities.
Majority of the financial institutions provide a detailed information on their websites on how their customers can protect themselves from Online scam attempts.
Before you perform any important financial transactions you better visit their website and understand all the security information.
You can also contact them via email or telephone for more information on how to protect from online crooks.
Disclaimer

This information is for Learning purposes only. We are indeed not financial/legal mentors. It should not be considered legal or financial advice. You should consult with a financial/legal advisor or other professional to find out what may be the optimum for your individual needs.

Please do your own research.