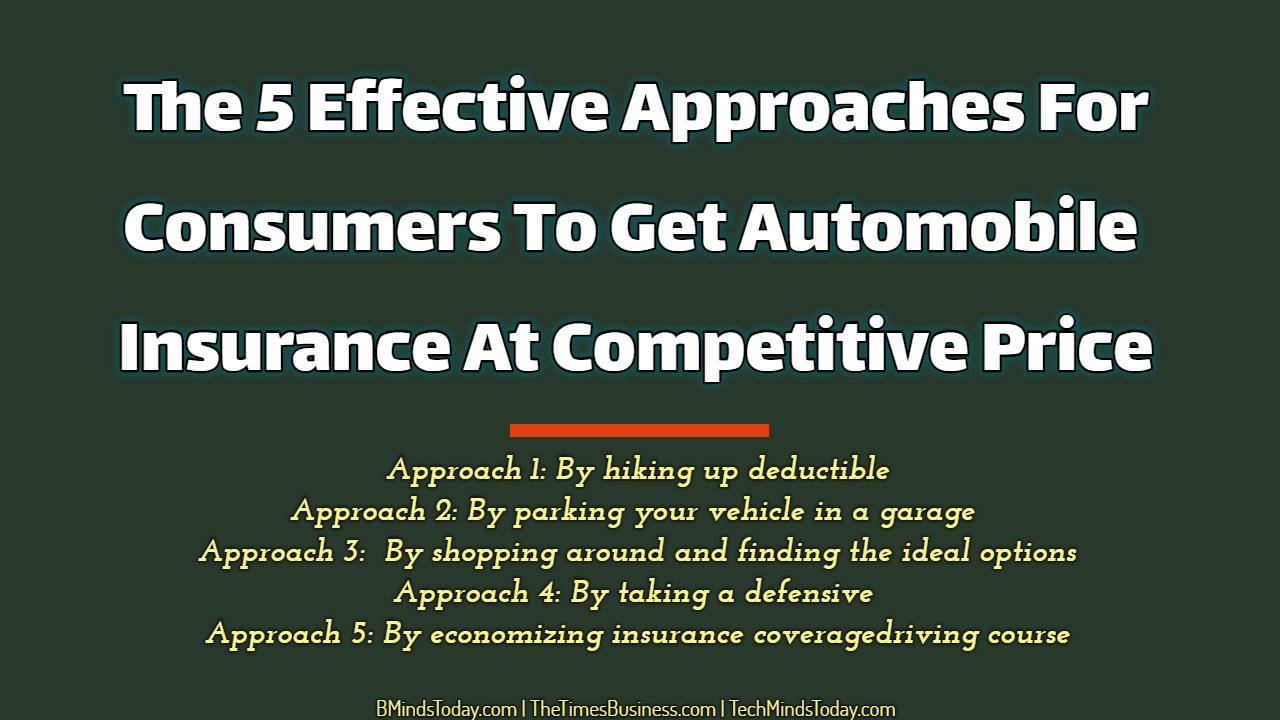 Are you as a consumer seeking ways to lower your Automobile Insurance Premium?
The premium rates of automobile insurance can spiral depending upon several factors. The insurance companies or agencies take factors such age, past driving record, and credit history into consideration in order to offer a competitive price and approve your application.
However, there are some effective approaches to discover ways to lower the annual pay-off of the premium. Here in the following chapter we are presenting you the five best and quickest ways to lower your Automobile Insurance Premium.
Approach 1: By hiking up deductible
'Deductible' amount is the sum that you would pay before your insurance policy kicks in. So, you better stop trying to get the 'lowest deductible', in its place go in for a comfortably higher out of pocket payment plan.
This is one of the best ways to cut your periodic premium total, however, be warned, in such a case, if anything happens to your vehicle – you need to compensate more to cover the preliminary costs, prior to going in for a claim.
Approach 2: By parking your vehicle in a garage
This is one of the simplest ways to cut down on insurance premium. If you park your vehicle in a garage, personal or commercial establishments, this will help in getting competitive premium price, in some scenarios, close to 20-30% of the premium.
The reason behind this is that if you park your vehicle in the garage the chances of your vehicle getting stolen or sideswiped are considerably lower. Considering from an operation perspective, parking in a garage could mean a difference between a chosen rate and a standard rate.
Approach 3:  By shopping around and finding the ideal options   
Doing some research on the price ranges in the market is a great initiative because it will help you understand the insurance market and its price ranges. Make sure you at minimum have three to five price quotes from different insurance companies or providers, prior to deciding on the service provider.
A part from price, you also need to take factors such as company profile and other terms and conditions. Make sure that you are not simply shopping for price alone, but the complete transaction.
Approach 4: By taking a defensive driving course
A Clear, Simple and Practical Guide To Accepting Credit Cards On eCommerce Stores

A Strategic Guide To Understanding & Analyzing Web Traffic | Visitors Vs. Hits
It is very much evident that many people are not fully aware of this. By volunteering for a state-approved defensive driving course, you can avail discounts in premium of up to 10%. Nevertheless, you better cross check with your insurer on this before you step in.
Approach 5: By economizing insurance coverage
Understanding and assessing exact needs is very important to save substantial amount of money. If you understand your exact needs you then can say no to unwanted addons.
How Internet Banking Firms Practice Security Measures To Keep Online Banking Safe

A Guide To Understanding The Basic Consumer Rights in Internet Banking
By assessing your needs, you can easily downsize the coverage. Moreover, this is conceivably the easiest way to lower your automobile insurance premium.
Nevertheless, it is highly recommended to be cautious and wise, while taking any sort of decision pertaining to insurance deals.
Each and every step explained above are very effective to secure a competitive premium price. These steps might help you in saving considerable amount of money.
Disclaimer

This information is for Learning purposes only. We are indeed not financial/legal/health mentors. It should not be considered legal or financial or health advice. You should consult with a financial/legal/health advisor or other professional to find out what may be the optimum for your individual needs.

Please do your own research.