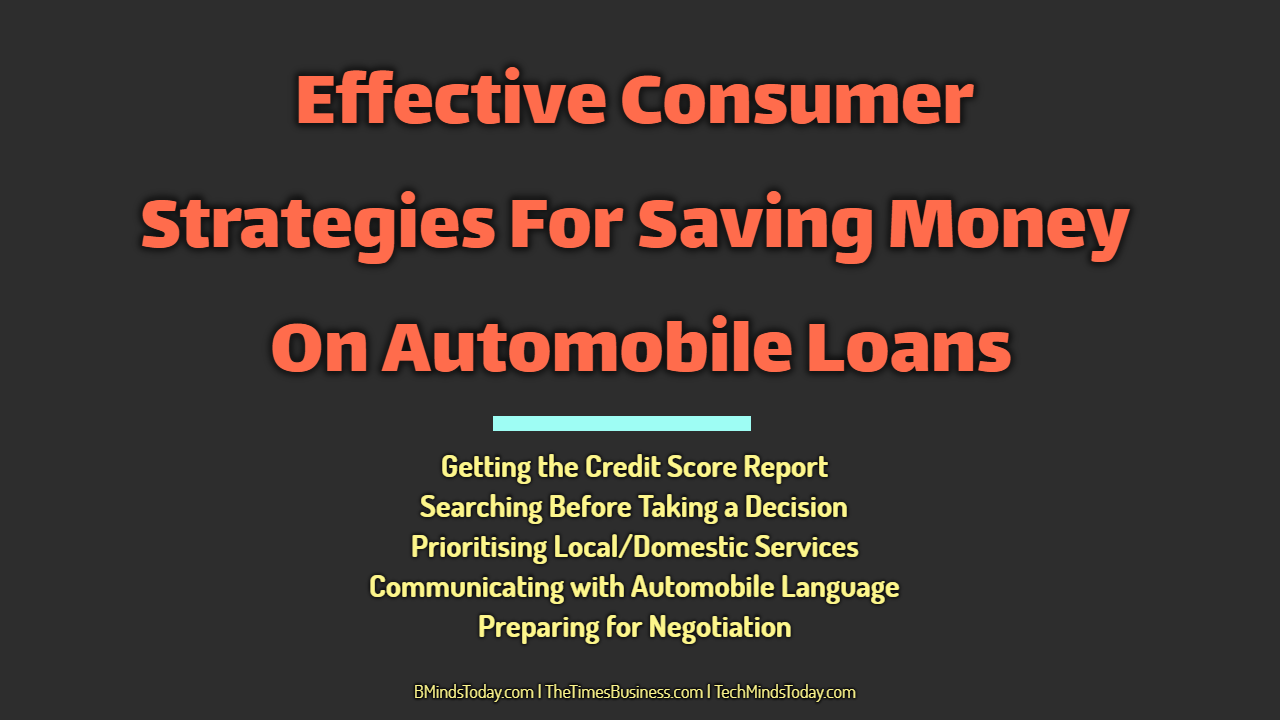 Considering the consumer perspective, the most exhausting part of the car-buying process, after agreeing on a price, is getting the right kind of loan for a new or used car.
Most consumers enter the car dealership completely unprepared for the loan application process, and that lack of information and preparation is costing them huge money.
Sophisticated consumers always want to create a win-win situation for them. There are several strategic approaches to take before start negotiating with automobile dealer.
Here in the following section we are going to discuss five major approaches that help to strengthen negotiation talks between a consumer and dealer.
Getting the Credit Score Report
Whatever the financial assistance a consumer is seeking, he/she should know the importance of knowing what is going on with the credit report. Despite the fact that there are several agencies out there to help people in getting credit score, most people do not pay attention to their credit score or check their credit report on a regular basis.
The credit report agencies include Equifax, Equifax, TransUnion, and Experian provide credit reports for anybody. Any individual can get a copy of the report by directly contacting the credit bureaus.
Not knowing the credit score and the details of the credit report before applying for a car loan is a massive mistake.
You want to have any imperfections on your report resolved before you apply for a car loan, because the results of your lender's credit inquiry directly impact your interest rate.
The credit report basically includes: Basic information about the consumer– name, address, social security number, etc.; information about late payments, any outstanding debts, the amount of credit available; any public records on the applicant such as judgments and bankruptcies; and inquiries into applicant credit from potential employers or lenders.
And simply for the reason that you have caught up late payments, cleared outstanding debts or cleared up any judgments does not mean these blemishes are automatically removed from credit report.
Sometimes, it is mandatory to follow up with the creditors to make sure they report applicant's settlement of debt to all credit bureaus.
Searching Before Taking a Decision
The fact of the matter is you'll be far less attracted to impulse buy, driving away from the car dealership with a car you can't afford if you have established boundaries in your mind before you begin.
Consumers can save big money on car loans if they have a budget and type of car in mind before they go shopping.
The finest mode to achieve this is to go online and check out different car dealership websites. This is one of the best approaches to compare and contrast vehicle makes, models, styles, features, pricing, and interest rates.
Prioritising Local/Domestic Services
It is not a difficult task to find local auto websites. There are number of domestic auto websites out there, and many of them are now online.
The benefits of working with a local car dealership can outshine working with the manufacturer or a nationwide website when you want the best in quality customer service, a relationship for the lifetime of your car and the best deal on your auto loan.
The major advantage of getting a loan through the local dealerships is they basically have a sincere investment in the community. That interest often leads to better customer service, a more customized approach to selling, and the ability to get you a better loan than the loan you will receive from a lender who doesn't know much about you.
Finally, the local dealership may have more than one place. Hence it is important to increase the options for finding the suitable car and best auto financing options.
If a customer goes to one dealership and does not find what they need, they can visit another location and expect the same quality customer service.
Cost-effective Ideas To Strengthen You Brand Presence and Reach

The Impact of Product Life Cycle & Customer Buying Behaviours On Strategic Advertising Practices

How To Create A Genuine and Professional Impression On Your Brand Through Strategic Advertising Campaigns
Communicating with Automobile Language
There's nothing more unsatisfying than going through the entire car-buying process, thinking you have a good deal, and Learning down the road that you were taken advantage of – simply because you had no idea what your sales representative was talking about.
So, it is important for any consumer to make sure he/she has a clear understanding capability of some of the basic Industry terms.
With this knowledge, you won't misunderstand the details or find yourself being signing a contract or paperwork that you don't understand.
How Can A 'Right Media Mix' Make Difference In Branding Strategy

Five Major Advantages of Buying Promotional Products Online

Cost-effective Yet Highly Results-oriented Approaches To Successful Strategic Advertising
Preparing for Negotiation
If consumer understood the four previous steps, he/she will be armed with the necessary tools to negotiate the best rate possible for a car loan.
There's nothing wrong with shopping around and checking with other lenders to see what kind of rate they can offer, but you must remember that numerous inquiries into your credit report may go against you.
In prior making any sort of decision pertaining auto loan, it is suggested to take the time to do a little homework so that the confidence level surges about securing the best deal.  Remember that investing a little time and effort before making the deal can go a long way in creating a win-win situation for consumer and the dealer.
Disclaimer

This information is for learning purposes only. We are indeed not financial/legal mentors. It should not be considered legal or financial advice. You should consult with a financial/legal advisor or other professional to find out what may be the optimum for your individual needs.

Please do your own research.