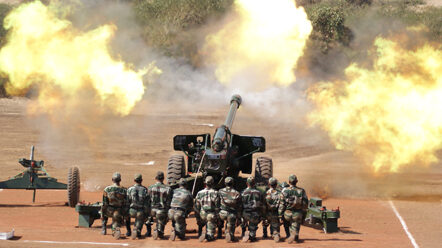 In the last 53 years, 21 civil persons killed and 19 injured during army's field firing, according to Indian defence Ministry's statement.
All the above cases of death/injury have been thoroughly investigated by the Army and it has been found that in all cases that accidents resulting in death/injury are because of civilians illegally entering the range during firing, without informing police, civil administration or army units. Therefore, the civilians are not liable to claim compensation, the ministry stated on 11th December.
All possible humanitarian assistance, however, is given by the Army to the injured/killed persons by means of first aid, shifting to the nearest hospital and assistance for conduct of last rites, it said.
As per Section 10 of Maneuvers, Field Firing and Artillery Practice Act, 1938, the responsibility for ensuring that no unauthorized persons enter the danger zone lies with civil administration.
Being a notified field firing range, the following measures are in place & strictly ensured by the Army:
The civil administration and Police are informed about the firing schedule every Quarter (well in advance) in writing.
Announcements over Mega Phone warning locals about conduct of firing are made prior to commencement. Presence of Police representative during conduct of firing is ensured.
Notice boards (written in English, Hindi, Assamese & Bodo language) warning public against entry into the firing range, have been erected at all prominent locations around the range, Red flags are placed during firing at important places indicating the boundary of area within which firing is taking place.
No firing is permitted beyond the time intimated to the locals.
No firing practices are carried out at night without intimation
The ministry also released the details of land owned by the Defence Ministry. According to its statement, total area measuring 1757031.89 acres of land is in possession of the Ministry of Defence (MoD) all over country.
The ministry on 11th December stated that currently there are totally 52 Army regiments existed in the country.