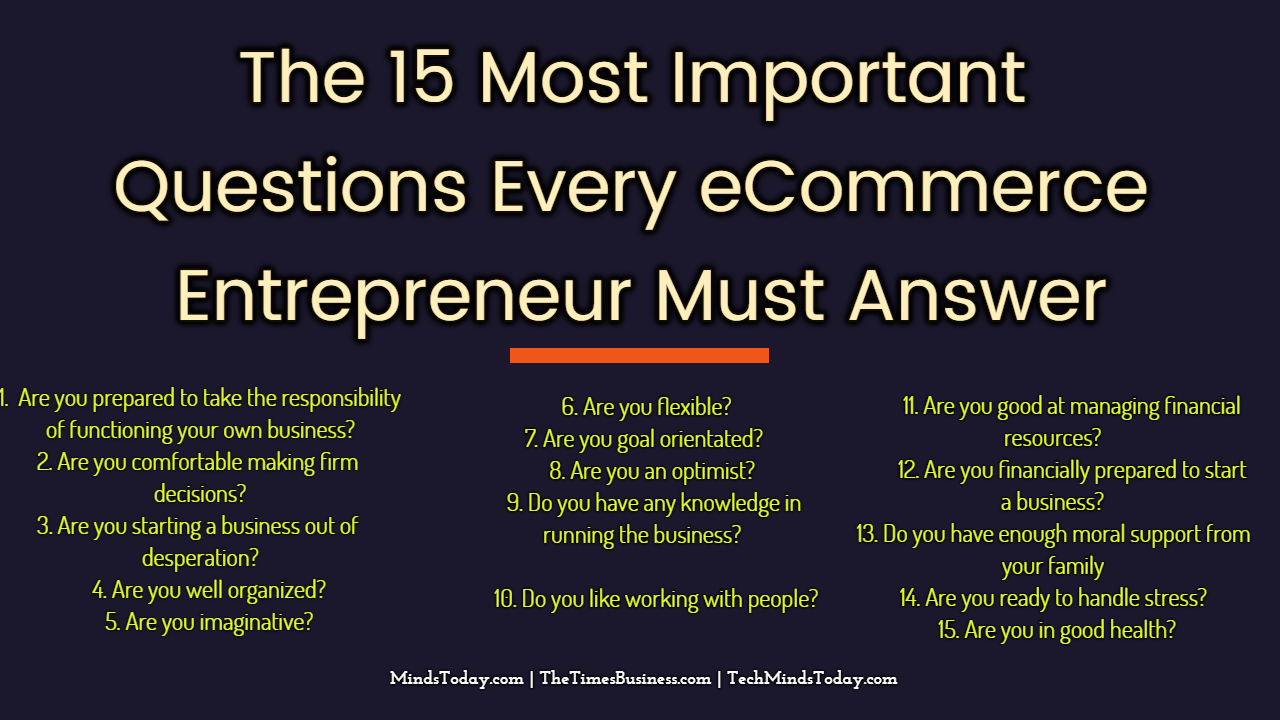 Taking a step to start a brand-new business is exciting as well as nerve-wracking. It will indeed be one of the biggest steps in anybody's career and it will be one of the major investments you'll make during your lifetime.
Not only financially, but emotionally as well. Making it right will mean taking on a lot of responsibilities and making a lot of sacrifices. It will also mean working harder than you ever have before.
Considering all these reasons, entrepreneurial career is not for everybody. If you are not aware of the skills and commitment it requires, you then will be in trouble before you even make your first sale.
Accordingly, before you begin planning your E-Commerce business, you need to take a hard look at yourself and your Resources, and then give authentic judgement to some very important questions.
The following questions will help every business aspirant to assess his/her personal characteristics and beliefs against the realities of business ownership.
1. Are you prepared to take the responsibility of functioning your own business?
When you run a business, you're in charge of each and every task. The hours are long, there's a high degree of stress, and there's always too much to do and not enough time to do it.
You'll have to deal with your customers as well as employees. You'll be answerable for the Finances of the business and dealing with taxes. And you'll need to deal with lots of documentation.
Most importantly you need to understand what you're getting into. If you are aware of this fact, you then can take further steps and responsibilities.
2. Are you comfortable making firm decisions?
As the owner of a business, you'll also have to make many decisions that affect the business. In many cases decision making will be a hard process. It will require mental strength and determination. If you have trouble with facing hard-hitting choices, this could be a problem area.
You have to be realistic about what your financial needs are and whether or not the business will meet those needs.  The fact of the matter is it may take you a number of years to get to the income level you want or need.
3. Are you starting a business out of desperation?
Here comes a real concern, mainly in light of the massive number of experienced businessmen and businesswomen who have been cast adrift in the job market through corporate downsizing in recent years. If you're one of these people and thinking about starting a business because you think it's your only option, be very cautious. Yes, it can be the answer to your future security, but only if you're willing to make the necessary commitments and sacrifices.
The world of business ownership is vastly different from the corporate world. Make sure you recognize the differences before you make the move.
4. Are you well organized?
The everyday process of your business is going to require you to undertake many responsibilities. Let's consider an average day. You may need to do the payroll, talk to suppliers, pay a few bills, work on a new advertising pamphlet, and prepare some tax forms. At the same time, you'll be filling orders and making sure they get sent out on time. Then there's always the unexpected situation such as technical glitches, computer repairs and so on.
Your capability to deal with all these tasks will directly affect your business success.
The Impact of Product Life Cycle & Customer Buying Behaviours On Strategic Advertising Practices

How To Create A Genuine and Professional Impression On Your Brand Through Strategic Advertising Campaigns

Relationships Vs. Business Decisions: A New Perspective In Strategic Advertising
5. Are you imaginative?
A part from producing a quality product or service, it is highly important to have the ability to take the product into the market. In order to do that you should need to have a creative advertising and Marketing ideas.
If you have a creative brain —whether it be in advertising development, copywriting, or graphic design—it will be a vital asset to your business.
The creative ideas work better in E-Commerce. Since your customers can't touch the items they're purchasing, they need to be enticed by the visual presentation and written description in your promotional materials.
6. Are you flexible?
In business, if a plan doesn't work, you can't let yourself waste time, energy, and resources. You need to rapidly come up with a substitute answer. Flexibility and adaptability are important. You'll need to stay focused to achieve your goal, but you may need to try several different routes to get there.
In eCommerce business, for example, one marketing approach may work for a while and then stop producing results. In this scenario, you'll need to come up with new strategies and make things work.
A Basic Guide To Receiving Online Payments From Payment Processing Firms

Patterns of Tasks & Innovative Possibilities: Here's What You Need To Know Advertising Agency Software

Here's How to Build Strategic Approaches with Online Advertising Agencies
7. Are you goal orientated?
As a business owner, your goals will be defined in very simple, concrete terms—gross sales and net profit.
A good businessperson approaches each year with new goals and uses them as encouraging forces throughout the year.
Let's say gross sales for your first year of operation were $250,000 and your net profit was $ 50,000. For the following year, you might set as your goal a 25 percent increase. Achieving or surpassing those figures will drive you day after day.
8. Are you an optimist?
Having the right mental attitude is important for business. By nature, it's a journey with ups and downs. For example, the toughest time for any business is the first year or two. You may spend months getting things ready to go, cautiously choosing the merchandise you'll carry, and getting your advertising Strategy together. Then you'll send out your first e-mailing and wait eagerly for orders.
Still nothing materializes. This isn't unusual in business, but even knowing that, you'll still concern. Keeping a positive mental attitude is essential to surviving the bad times and working hard to make the good ones arrive that much sooner.
9. Do you have any knowledge in running the business?
If you have any previous experience in running a business, it will make Learning the business a lot easier. Experience in sales, Finance, advertising, marketing, human resource Management, or any other business-related function is a positive sign for a potential business owner.
Since the eCommerce is all about internet tools and digital media, experience with computers and technological tools is required.
10. Do you like working with people?
Business management is all about understanding the market and communicating with the people. In eCommerce business there's rarely face-to-face contact with people. However, you communicate through electronic devices.
You'll have to deal with several people including suppliers, customers, employees and so on.  No matter how well you think you have things organized, there's always something to be solved. This is where thoughtfulness, endurance, and understanding come in.
When a customer or an employee is unhappy, you must put up with their behavior and try to improve the situation. You'll have to be tough at times. Managing people isn't easy. If you're fortunate, most of your employees will be pleasant, will work hard, and will contribute positively to the business. But you'll also have a few who will turn out to be unpleasant, lazy, incompetent, or even dishonest. Motivating them will be a challenge.
SIX Influential Advices to Building Testimonials That Sell Your Products or Services Fast

SEVEN Critical Facets of an Imaginary Logo Strategy
11. Are you good at managing financial resources?
Financial management is a key element in the business. You'll be dealing with complex financial issues, from funding the business to handling the day-to-day receipts. You'll be responsible for paying the bills, making the bank deposits, doing the payroll, and sending reports to the tax departments.
You may be handling significant amount of cash, and there are certain risks inherent in that responsibility.
You'll also be making business plans. These are detailed projections of your income and expenses for a given period of time. In some ways, they're quite simple—you want to maximize your income and minimize your expenses.
But they take careful planning and budgeting.  The main questions that need to be answered are;
What are the minimum staffing expenses going to be to operate the business?
How much money can you spend on advertising?
When are the taxes due?
How will you determine the price of your products or services?
What will you charge for shipping and handling?
Any financial experience you may have had will help you with this aspect of your business. And if you like this type of activity, it will be to your advantage. But if you find it heavy, you'll have to be ready to deal with it.
12. Are you financially prepared to start a business?
Starting any business requires funds. The good thing about E-Commerce based business is that you can start with amount of capital. But the bigger your dreams, the more money you're going to need. If you're planning an eCommerce business with many products, the start-up costs will be considerably higher.
Before you begin planning your business, you need to take a careful look at your finances. You mainly have to answer the following questions:
How much of the accessible capital are you willing to risk?
Are you willing to take a business loan?
How much cash will you have in reserve for crises?
If you don't have sufficient financial resources, are you willing to take on a partner?
Are you staking your entire financial future on the business?
If you can't start your business with a comfortable budget, you may be taking a risk you can't afford.
13. Do you have enough moral support from your family
Whether or not your family is actively involved in the business, business ownership is going to have an enormous effect on them. You better consider their opinions before risking a valuable time and resources. There may be some financial adjustments for your family. Your family will have to realize there might not be money for some of the treats they used to take for granted.
It's very important to think about potential family problems early in the process.
14. Are you ready to handle stress?
A business involves long working hours, never-ending responsibility, and unexpected financial stress. It needs lots of emotional balance. Some people thrive on stress. It actually makes them perform better. Others fall apart when things get too chaotic. Which kind of person are you?
15. Are you in good health?
Running a business can be physically challenging. You may have to spend a lot of time on your tasks and not get as much sleep as you'd like. There may be activities in the business that require a reasonable amount of physical strength.
Remember, when you own the business, you have to be there day after day. A long absence due to illness could give unsatisfactory result.
All these questions are extremely important to consider before you start preparing any kind of business plan.  If you are willing to build a successful eCommerce business, these questions are essential and you have to answer wisely.
Disclaimer

This information is for learning purposes only. We are indeed not financial/legal mentors. It should not be considered legal or financial advice. You should consult with a financial/legal advisor or other professional to find out what may be the optimum for your individual needs.

Please do your own research.