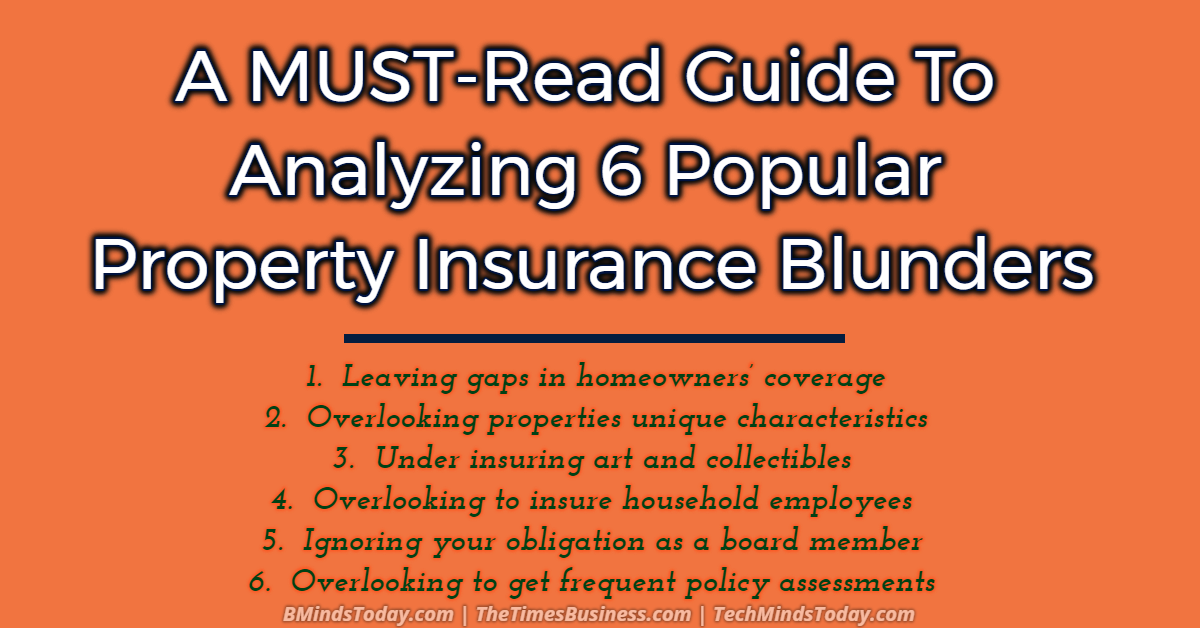 Property insurance majorly provides protection against extreme risks to property, such as fire, theft and some weather damage.
This consist of specific forms of insurance plans such as fire insurance, flood insurance, earthquake insurance, home insurance, and so forth.
However, getting the right property insurance coverage may not be on your 'priority' list of financial plans. But it is very important to assess all of your needs, study specialized policies or policy options, and organize your coverage with other aspects of your financial situation.
Property holders or home owners often ignore some facts when it comes to understanding the significance and factors involved in property insurance.
Here in the following chapter the six different inadequacies that could actually prove costly are being discussed.
1. Leaving gaps in homeowners' coverage
A homeowner or property holder needs to assess coverage on regular basis to keep up with intensifying additional costs.
But covering different kinds of homes or properties in different locations postures additional difficulties. If you purchase insurance from more than one provider, you then may face conflicting instructions, limitations, and policy renewal times.
For illustration, the liability limit on the policy for a second home might fall below the minimum on an excess liability policy intended to complement the insurance on your primary home. You could wind up accountable for the difference.
2. Overlooking properties unique characteristics
One perk of affluence is the means to own exceptional homes; one downside is that they may be difficult to insure satisfactorily.
Average homeowners' coverage normally won't pay for the materials and craftsmanship required to reconstruct that 19th century showplace you've scrupulously restored. Seaside homes may face cyclone damage, while some other places could be subject to earthquakes. In the meantime, city co-ops or condos may need policies tailored to their buildings or associations coverage.
3. Under insuring art and collectibles
Ordinary homeowners policies limit coverage for the losses of antiques, furs, and other valuables. And while you could schedule additional coverage, insuring the real value of a collection of contemporary art or vintage muscle cars likely will require a specialized policy addressing several critical issues.
How is the value of the collection determined? (You'll need a professional evaluation when the policy is designed, with frequent updates as items appreciate.)
Will a damaged or destroyed item be paid for with cash, or will you be required to have it replaced or restored?
Will additions to your collection automatically be covered?
4. Overlooking to insure household employees
When somebody works for you or your family, as a baby-sitter, watchman, personal assistant, or in another role, you could be liable for medical expenses and lost wages if the worker is hurt on the job.
Several countries require household employers to pay into a worker's compensation fund, while in other countries it's non-compulsory, but providing such insurance may be mandatory for ensuring your financial well-being.
A Clear, Simple and Practical Guide To Accepting Credit Cards On eCommerce Stores

A Strategic Guide To Understanding & Analyzing Web Traffic | Visitors Vs. Hits
5. Ignoring your obligation as a board member
Extra liability coverage could help protect you if you're sued as a director of a nonprofit's board. Or for more comprehensive protection, you may want to consider special directors liability insurance.
6. Overlooking to get frequent policy assessments
How Internet Banking Firms Practice Security Measures To Keep Online Banking Safe

A Guide To Understanding The Basic Consumer Rights in Internet Banking
Your financial life isn't static, and neither are your insurance needs. The value of a collection may increase; extensive home renovations could mean a sharp rise in the value of your property; and the re titling of assets as part of your estate plan—or because of divorce, a death in the family, or the birth of a child—could demand policy changes.
Even lacking major events, you probably need a comprehensive review of all your insurance coverage at least once in two to three years.
Disclaimer

This information is for Learning purposes only. We are indeed not financial/legal/health mentors. It should not be considered legal or financial or health advice. You should consult with a financial/legal/health advisor or other professional to find out what may be the optimum for your individual needs.

Please do your own research.