Quick And STRESS-FREE Methods To Help You Recognize And Achieve Your TRUE Goals In Business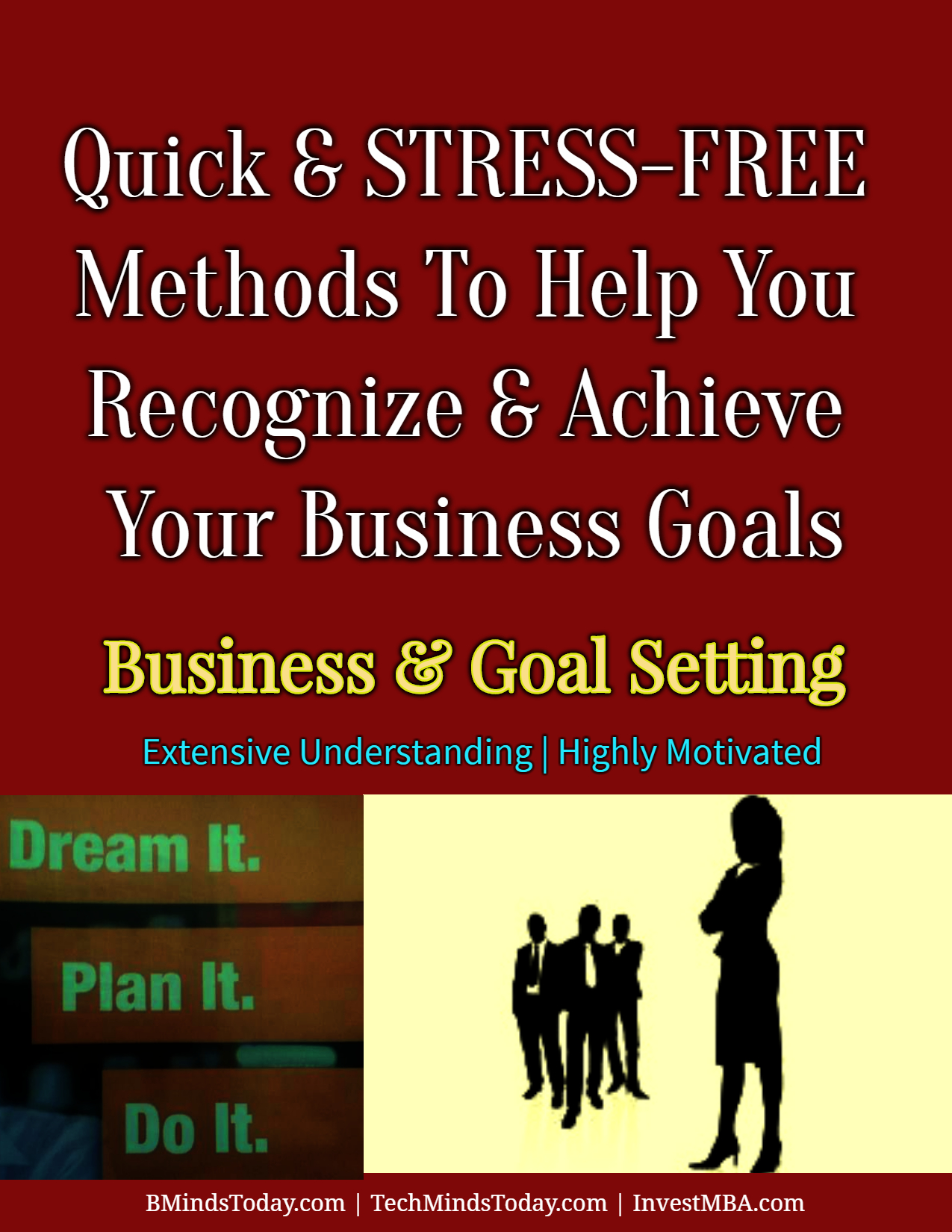 The finest approach to predict the future of your business is to build it by visualizing the end in mind, preserving it by writing it down and then working in the direction of delivering it.
A significant number of studies and experts suggested that before you get ready to take entrepreneurial career or any other field for that matter; you should need to check whether or not you have clarity on following specifics.
A vision: Whether it is an organisation, or an individual, having a clear vision is the must.
A plan: A written plan must be noted down because that would give you and your team access to make understand each and every move.
Resources: Assessing your business needs and then assigning funds based on the needs is unquestionably one of the fundamental undertakings in the business.
Despite the fact that the specifics illustrated in earlier paragraph are considered to be significant in achieving the anticipated results or make a huge difference in respected field, setting flexible goals is also very important to make each and every phase move forward.
'Goal Setting' is the secret to achieving any vision or wish you want in your business career. There have been a number of studies that often proved that successful people use 'Goals' to attain the knowledge and wealth they have today.
The reason why people often find it too hard to achieve their goals is simple because they have set their Long-Term goals before setting Short-Term ones, or they simply didn't plan their goals out cautiously.
Goal setting strategies are very vital specifically for those who want to accomplish Long-Term goals.
Here in the following section, we are going to present you a great deal of 'Goal Setting' strategies that will contribute in helping you realize your true goals.
[ihc-hide-content ihc_mb_type="show" ihc_mb_who="1″ ihc_mb_template="1″ ]
Strategy 1: Plan and Begin with Short-Term goals
It is not at all weird if someone starts with short-goals instinctively.
Why instinctively?
Some entrepreneurs may have considered the goals to be long-term at the time they planned them; and after achieving a goal, they recognize that they are in fact, viewing forward to a longer one.
Some are comfortable with their short-term goals, but after some time will recognise that they also need to accomplish long-term ones.
To avoid confusion and ambiguity, you better to plan and start with short-term goals. However, once you are in into entrepreneurial process the situations at some point will demand you to consider long-term goals.
To be more precise, they short-term goals motivate the person to plan for longer goals, which will generally take some time before achieving them in full.
Strategy 2: Get a clear structure on the goals
Why do I really need a goal? Is my goal meaningful to the business?  Do I really want this specific goal and will this goal give me a better result?" These questions are required to be asked and answered by you.
Answering these questions will give you more desire and motivation to achieve your business goals.
Some entrepreneurs often recall their past to find out Why and How they came up with such goal.
Strategy 3: Communicate with others
If you want people to understand your business and its aspirations, you simply shouldn't keep yourself calm.
By sharing your business goals with other people it will help you get the support you may need in order to accomplish them.
The problem that usually occurs though is some people are just too introverted to tell others about their goals for reasons like they are afraid they cannot achieve them in the end, or they lack the courage to speak their minds.
This is not at all a good practice to get into for the reason that when the time comes that you really need their support; you will have a tough time getting it. You will then be left to achieve your goals all by yourself.
Try not to make this blunder.
Strategy 4: Write down your goals
In order to unlock your potential you need to recognize the activities that give you utmost sense of meaning and purpose in career. Once you figure out what you are good at or what your business is about then you have to write down your goals in a proper manner.
This specific strategy is critical and more desirable for those who have a long list of goals. After writing them down in as much detail, it is advisable that you review them on a daily to weekly basis for the reason that this will raise your spirits and encourage you to achieving them; in addition, this will also keep that vision of your goal active.
Strategy 5: Stay on track and never give up
Persistence is highly important key to become successful in entrepreneurial career. Many people fail at achieving their goals due to simply not being persistent.
Persistence is a continuous determined perspective. No matter what, simply stick to it.
Reviewing follow-ups will help open your mind to see if you are on the right track. While on track, you may have to face challenges that might change your behaviour.
A person who is overoptimistic might all of a sudden feel depressed after finding out that he/she is going the wrong way in achieving his/her goal.  Therefore this might lead to abandoning the goal.
Facing difficulties is a test on how passionate one is to recognizing his/her goals.
In a nutshell, don't even think of forgetting to visualise your goal every single day.
[/ihc-hide-content]