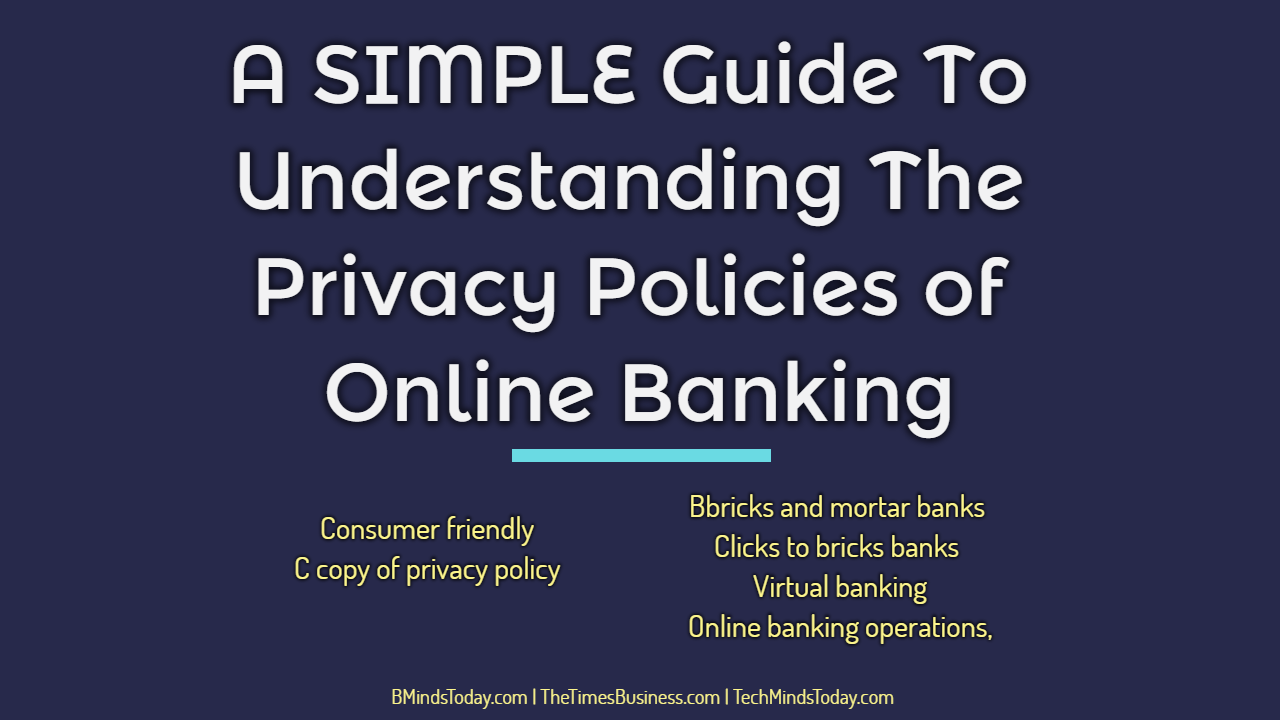 Privacy policy legislation affects internet or online banking just as it does any other type of banking establishment. In consumer perspective, it is normal that every customer wants to keep personal information private and secure.
Considering the importance of privacy policies in internet banking Industry, here in the following section, we manly focus on understanding how bank treats privacy policy.
A study was done to determine how well different banks, including internet banking companies, dealt with privacy policy.  All financial institutions should have privacy policies that are consumer friendly.  This is in keeping with the spirit of the law.
If we take the banking law in the United States, it is called the Gramm-Leach-Blily Act, or GLBA , also known as the Financial Services Modernization Act of 1999. This was enacted by Congress in 2001.  It gives power to financial institutions to conduct business in many important methods.
More prominently to consumers, there is a section devoted to the privacy of banking customers, including internet banking customers.
Banks MUST provide consumers with a copy of their privacy policy.  This explains how your personal information will be used by internet banking Operations and other banks.
Cost-effective Ideas To Strengthen You Brand Presence and Reach

The Impact of Product Life Cycle & Customer Buying Behaviours On Strategic Advertising Practices

How To Create A Genuine and Professional Impression On Your Brand Through Strategic Advertising Campaigns
Your personal information would include any information that can be identified as your particular information.  It could be your name, address, social security number, internet banking transactions you have made in your name, and other information.  It could also be any information that can be guessed by having some of this information.
The study evaluated bricks and mortar banks, clicks to bricks banks, virtual bank, online banking operations, and other financial institutions.  It compared each company's privacy policy, how they informed consumers about their privacy policy, and what options consumers had with them to "opt-out." 
How Can A 'Right Media Mix' Make Difference In Branding Strategy

Five Major Advantages of Buying Promotional Products Online

Cost-effective Yet Highly Results-oriented Approaches To Successful Strategic Advertising
If you opt-out, you are saying to the company that you do not want your information to be shared with other companies that are not affiliated with the bank.  Under GLBA of USA, internet banking services still have the option of sharing your information with affiliates and Marketing partners, but they should inform you that they are doing so.
One problem has been that the privacy policy statements sent out to consumers by internet banking companies and other banks have been impossible for most people to untangle.  They are not exactly an easy read.  There is a movement to make them easier to understand.
Another problem is that some internet banking companies have made it very difficult to opt-out of having their information shared with unrelated businesses.  It should be the easiest with online banking.  Certainly some internet banking companies have online forms to fill out so that you can be finished with it in short order.
Nevertheless, some internet banking sites make it nearly impossible to opt-out.  They make you go to service phone number, or write for a mail-in form, or they may not have opt-out at all.  These are in the minority, but you should watch for them when comparing online banks.
FOUR Remarkable Steps To Unleashing The Immense Returns Within " Solo Ads " Fast And Simply

FOUR Great Motives Why Consumers Love Online Shopping

FIVE MUST Learn Methods To Be Successful In Online Marketing & Selling
The good news is that virtual internet banking companies that offered standard banking services like checking and savings accounts scored the best in the study.  If any customer wants to keep his/her information private, it is highly important to check out the internet banking institution's privacy policy before singing up.
Disclaimer

This information is for Learning purposes only. We are indeed not financial/legal mentors. It should not be considered legal or financial advice. You should consult with a financial/legal advisor or other professional to find out what may be the optimum for your individual needs.

Please do your own research.