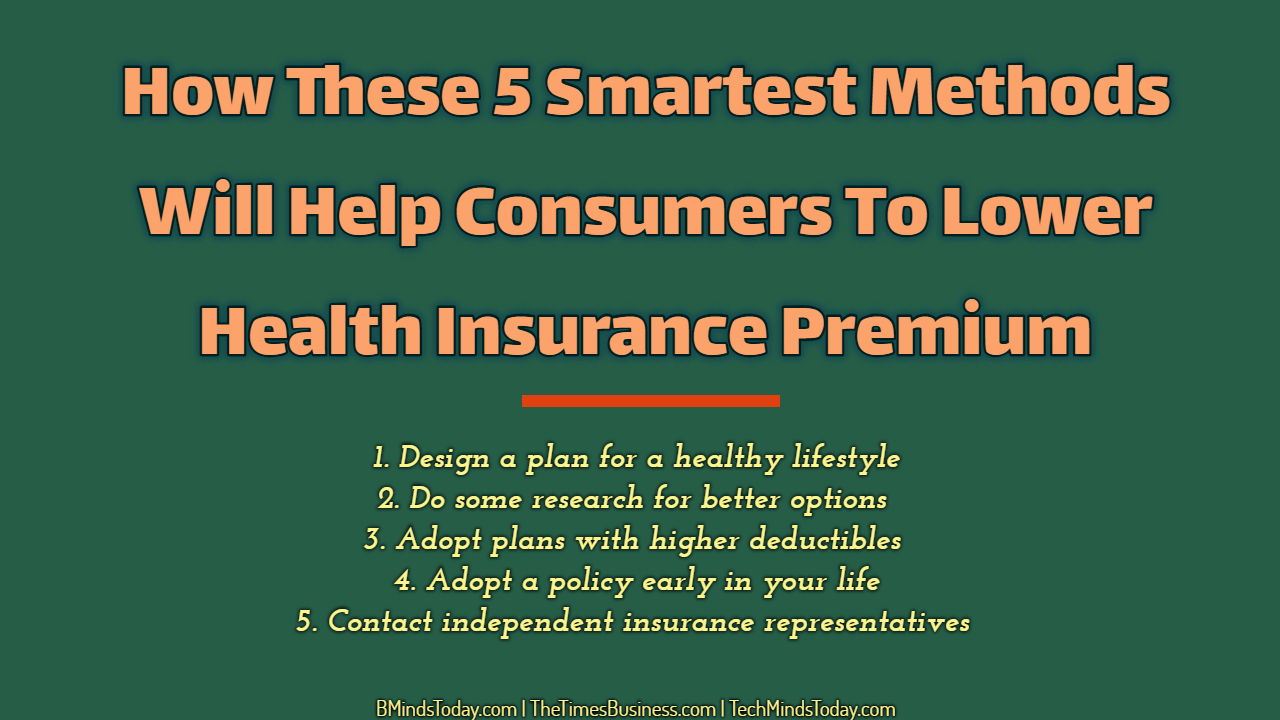 According to Health Insurance Association of America, "health insurance is a coverage that provides for the payments of benefits as a result of sickness or injury. It basically includes insurance for losses from accident, medical expense, disability, or accidental death and dismemberment"
However, in order to have a comprehensive insurance policy for you and your family, you need to have planned budget. Sometimes the premiums of such policies can leave you in and out of the budget situation.
But if you put little effort on understanding the insurance market, different providers and price ranges, you then can save significant amount of money. For this, you are required to do some research on different factors.
However, here in the following chapter we are presenting you some of the highly effective ways that may contribute to bring down your premium costs.  If you are seeking to bring down your premium, follow the 5 best techniques explained below.
1. Design a plan for a healthy lifestyle
Planning a healthy lifestyle has several advantages. When you have a perfect health with less or no critical issues, you then have a great deal of chances to get insurance at competitive price. Hence, your healthy lifestyle can easily help you in bringing down the health insurance premium.
To improve your health, make a plan to follow regular exercise sessions, have a healthy diet, avoid smoking and heavy drinking. By following all these tips your visits to the doctor will surely be minimized. The healthier you are, the lesser you are characterized as a risk for the insurance company or agency.
2. Do some research for better options
By doing some research and shopping around will make you get an idea about the best options and the finest deals available in the insurance market.  So, consider shopping around to find the best options for the health care policy because it will help you in keeping your premium as low as possible.
This way you can find the best available policy that fits in your budget and needs. Do a thorough research before investing in any policy. You can get information from your networks or even Internet.
3. Adopt plans with higher deductibles
The insurance plans with higher deductibles tend to have lower premiums. Characteristically, deductible is the amount you are expected to pay on the way to hospital, doctor, and other medical bills. Taking up a plan with a higher deductible may not be a collectively applicable idea.
If you're normally healthy and do not fall ill very regularly, then you can go for this plan. By choosing this method, you can keep your premium at a lower rate and benefit basic health care features as well. On the other hand, if you have a history of some major consistent illness, you better avoid this particular plan.
4. Adopt a policy early in your life
The insurance premiums vary to a great extent with the age of the person. Considering these factors, it is suggested to have a policy as early in your life as you can.
For instance, if you purchase an insurance policy at the age of 25, then you'll normally have to pay lesser premium. If you go for the same policy at the age of 50 you'll end up paying a higher premium sum.
A Clear, Simple and Practical Guide To Accepting Credit Cards On eCommerce Stores

A Strategic Guide To Understanding & Analyzing Web Traffic | Visitors Vs. Hits
5. Contact independent insurance representatives
Taking advice or guidance pertaining to insurance policies is one of the primary approaches for a better decision making. You can take help from independent insurance representatives in this regard.
How Internet Banking Firms Practice Security Measures To Keep Online Banking Safe

A Guide To Understanding The Basic Consumer Rights in Internet Banking
These representatives represent several insurance agencies and can guide you to choose the right kind of health insurance policy and then plan your premiums at an affordable rate.
Since independent agents tend to compete with other rivalries in the market, you will have better chances to get serious offers. However, you should learn negotiation skills for this.
Disclaimer

This information is for Learning purposes only. We are indeed not financial/legal/health mentors. It should not be considered legal or financial or health advice. You should consult with a financial/legal/health advisor or other professional to find out what may be the optimum for your individual needs.

Please do your own research.