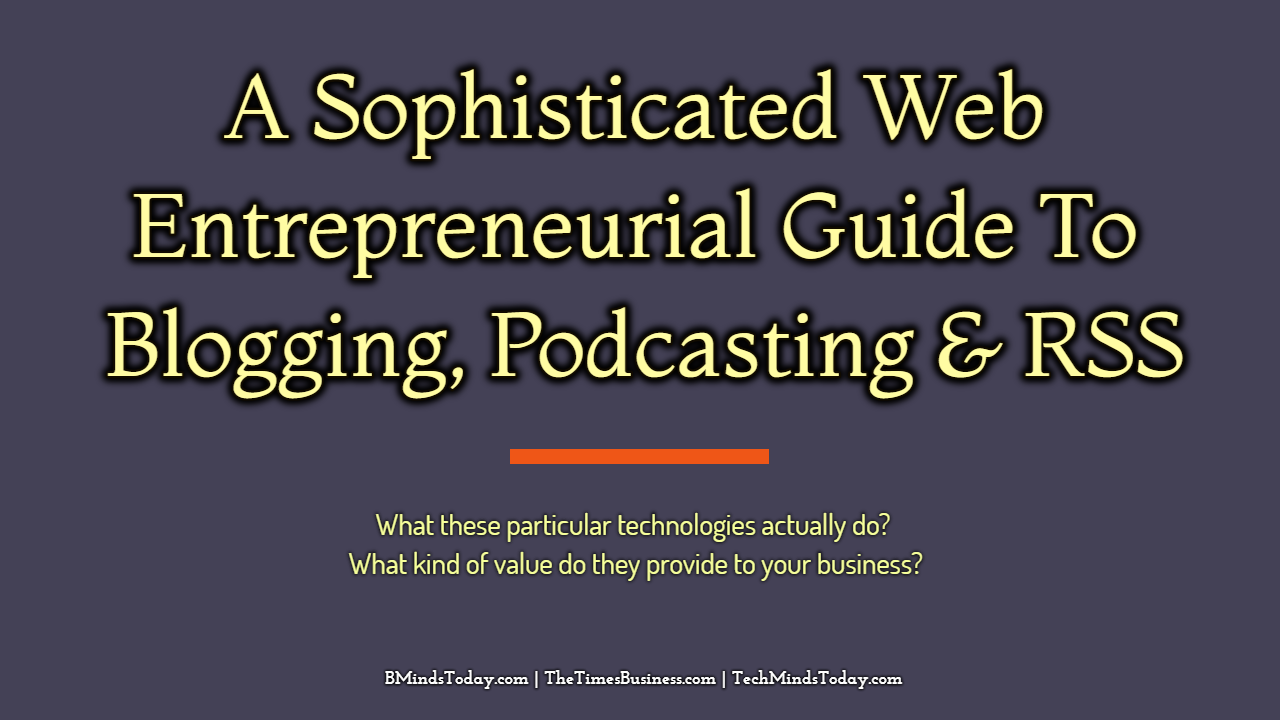 If you are somewhat familiar to eCommerce-based business or blogging or digital media, you probably have heard the terms such as podcasting, RSS etc.
You wonder about,
what these particular technologies actually do?
What kind of value do they provide to my business?
If you are not yet aware of the advantages of these new applications and how they are impacting retail online interaction then follow this writing further.
Will these technologies create value?
Instead of focusing on value it's going to create to your business, understanding its impact on consumer behavior is significant because awareness drives innovation and maybe your team will develop an idea or application that truly changes a portion of your eCommerce business.
Blogs
Blogs allow individuals to rapidly build a website and distribute any type of content that they wish. In this technological era, many web entrepreneurs adopt this functionality to build online stores within niche markets, while using search popularity to beat out larger retailers on the specific terms within the market.
SIX Influential Advices to Building Testimonials That Sell Your Products or Services Fast

SEVEN Critical Facets of an Imaginary Logo Strategy
The blogs create decent amount of value within targeted online communities because they make a clear sense. Certain blog authors develop a large base of specific audience; thus, the site becomes a target market for viral Marketing.
By integrating your brand image within the site experience at that specific blog, you then are able to truly segment your marketing prior to converting someone as a customer.
The key takeaway:
If you have a unique value proposition or sell to a very specific customer segment, blogs can be an effective process to surge overall brand awareness.
By making this happen, you can connect with your customers in an effective manner and promote your products or services.
 Podcasting
Podcasting should be just termed mobile video broadcasting – Apple's development team did an extraordinary work with branding their device to a type of emerging media!
Similar to traditional radio and television, mobile video broadcasting delivers branded content in either a paid or free setting, or mobile player.
Retailers can use this communication channel to further connect to their customers with promotional events, while providing special programs to meet their attention.
The Impact of Product Life Cycle & Customer Buying Behaviours On Strategic Advertising Practices

How To Create A Genuine and Professional Impression On Your Brand Through Strategic Advertising Campaigns

Relationships Vs. Business Decisions: A New Perspective In Strategic Advertising
The key takeaway:
Until and unless video podcasting penetration surges, it's still a limited channel for advertising. The best application available right now would be an online content segment that is digitally delivered to an opt-in list.
As technology advances, you can potentially do this from your current opt-in page from your website and not from Apple's iTunes platform.
A Basic Guide To Receiving Online Payments From Payment Processing Firms

Patterns of Tasks & Innovative Possibilities: Here's What You Need To Know Advertising Agency Software

Here's How to Build Strategic Approaches with Online Advertising Agencies
Real Simple Syndication (RSS)
RSS stands for Real Simple Syndication and is a method for electronic content distribution. RSS is transmitted through the internet, however what makes it unique is that no downloading efforts are needed by the end receiver of the content.
It streams promptly. Consumers can have news readers on their computers, either integrated into an e-mail client, or an aggregated web application, and are able to get information relating to their preferences.
The Key Takeaway:
Using RSS channel depends on the nature of your business.
Do you often offer new prices?
Do you get new items to your collection continuously?
Do you have a customer base that is enormously loyal that you want to reach out to with messaging?
If your business is connecting to any of these factors, using RSS channel may help you to build the brand in niche market.
Disclaimer

This information is for Learning purposes only. We are indeed not financial/legal mentors. It should not be considered legal or financial advice. You should consult with a financial/legal advisor or other professional to find out what may be the optimum for your individual needs.

Please do your own research.