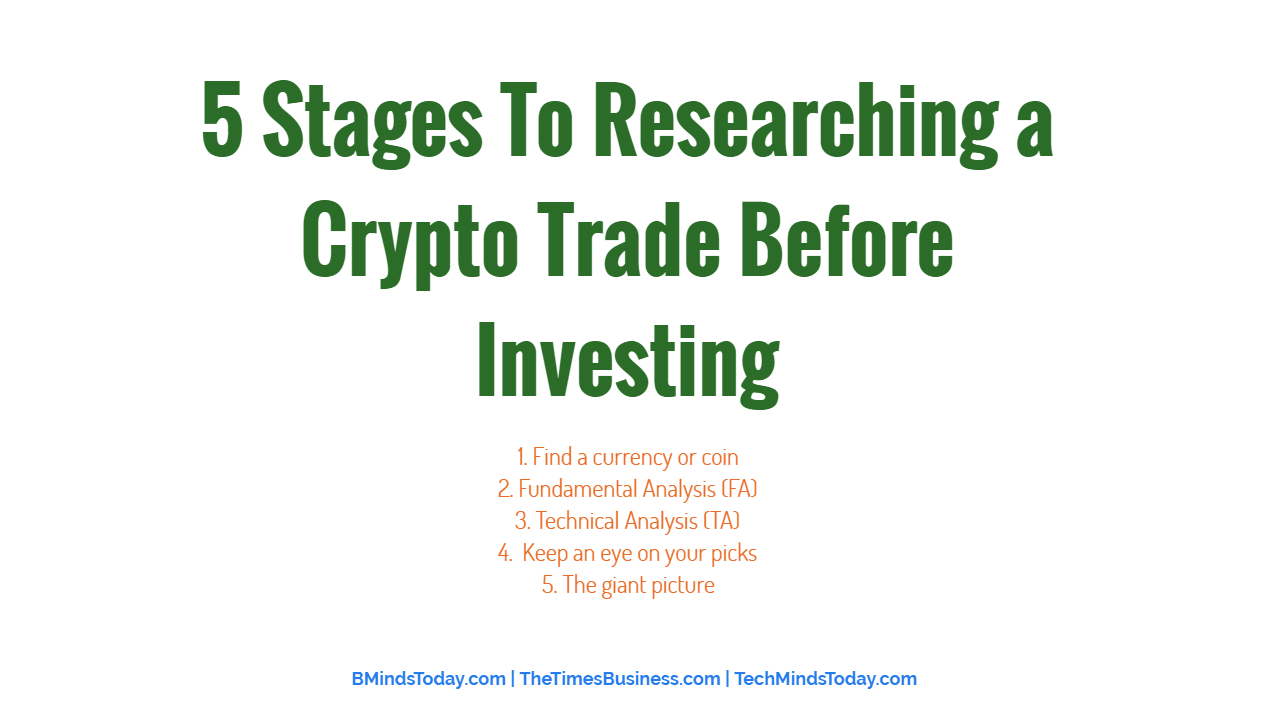 It is always recommended to have some kind of a structure in place that will be used before each crypto trade.
Here in the following paragraphs a five simple step formula is being discussed. These fundamental steps will help you get started.
1. Find a currency or coin
This is the most noticeable as well as most challenging step in crypto trading. With well over 1500 coins to trade a decent rule of thumb to think through is time of the year.
For instance, as we publish this article, it is the beginning of summer. It would make sense to consider coins that traditionally make scores, or slide if you are bearish, during this time of year.
2. Fundamental Analysis (FA)
It is predictable that many short term traders possibly will disagree with the need to do any fundamental analysis, but knowing the chart patterns from the past and the news on the topic of the cryptocurrency is relevant. An illustration would be earnings time of year.  If you are planning on playing a stock to the upside that has missed its earnings target the last 2 quarters, caution could be in order.
3. Technical Analysis (TA)
This is the portion where indicators come in. It comprises of statistics, volume, moving averages, support levels, resistance levels and so forth. The set of indicators you pick, whether lagging or leading, may purely depend on where you get your knowledge.
5 Stages To Researching a Crypto Trade Before Investing

How And Why Are Futures Traded? | A Simple Guide To Futures Trading
You better to learn to keep it simple in the beginning. Taking too many indicators into consideration may cause you to get confused and substantial losses.
To begin with, you should be comfortable with one or two indicators.  Learn their workings and you will be improved in decision making.
4. Keep an eye on your picks
It is important to follow that once you have placed a few trades you should be supervising them properly. If the trade is intended to be a short-term trade watch it carefully for your exit signal.  If it is a swing trade, watch for the indicators that communicate you the trend is fluctuating.  If it is a long term trade remember to set weekly or monthly check-ups on the portfolio.
A Methodical and Structured Approach to Trading in the Crypto Market

3 Important Steps To Profitable Crypto Picking |Don't Ignore
5. The giant picture
As the saying motivates, all ships rise and tumble with the flow. Understanding which projects are heating up stacks the chips in your favour.
For instance, if you are long on privacy coins and most of the optimism is rising then more likely than not you are on the right side of the trade.  Several platforms will give you access information so that you can get the education you require.
Disclaimer:

This information is for Learning purposes only. We are indeed not financial mentors. It should not be considered legal or financial advice. You should consult with a financial advisor or other professional to find out what may be the finest for your individual needs and risk tolerance.

Please do your own research.