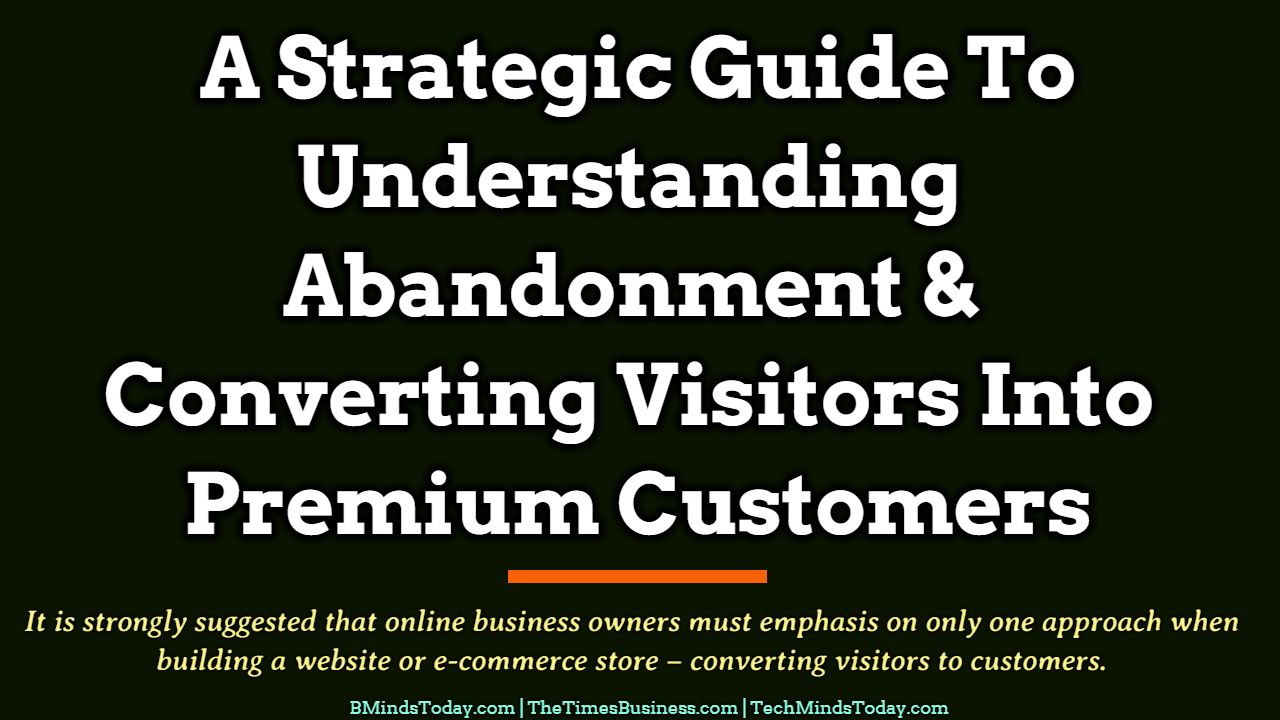 Online based business is all about letting target market know the products or services through advertising and Marketing, and then convert them into real customers.
Every single decent online business understands the value of conversions versus hits received. Far too often, businesses become fixated on the hits they are receiving instead of monitoring their hit to sale conversion rate.
This misguided focus is the way to ruin for the reason that it fails to take in the issue of abandonment.
Abandonment
"Abandonment" is one of those terms that has a unique meaning when applied to the Internet. The term refers to reasons why a user leaves a website before taking the action, typically purchasing a product or making an inquiry.
There are a number of attractive online based businesses out there with unique innovations. But the fact of the matter is majority of these sites rarely turn a profit or needlessly limit their profit potential due to lack of strategic approach.
It is strongly suggested that online business owners must emphasis on only one approach when building a website or e-commerce store – converting visitors to customers.
In order to gain more real customers and avoid abandonment issues for your online business you then have to understand and follow the techniques explained in the following section.
1. The business website or e-commerce store should always load and run as promptly as possible to accommodate visitors.
2. A part from attractive appearance, the website should be designed for ease of use.
3. All advertisements must click through directly to the products or services that are being searched, not the home page of the site or online shop.
4. Website pages should be kept as short as possible because that helps to improve speed times.
5. Information that is not relevant to the product or service should be detached from the website.
6. Flash, music and other graphic related elements of the site should be removed or optional to speed up load times.
7. Signing up for the website newsletter must be tremendously easy.
8. Customers should be required to fill out the minimum of information to make a purchase.
9. Newsletters should be issued in HTML and text since some email systems do not accept HTML.
10. All images should be compressed for fast loading.
11. All links and emails must also include user friendly equivalents.
12. Email communications from the consumers or general public must be answered to within 24 hours.
The Impact of Product Life Cycle & Customer Buying Behaviours On Strategic Advertising Practices

How To Create A Genuine and Professional Impression On Your Brand Through Strategic Advertising Campaigns

Relationships Vs. Business Decisions: A New Perspective In Strategic Advertising
13. Communications made after business hours must be responded to first thing in the morning.
14. The site should offer gathering bonus points for purchases that eventually lead to a "free gift"
15. When an order is shipped, an email should be sent to the customer telling them as much.
A Basic Guide To Receiving Online Payments From Payment Processing Firms

Patterns of Tasks & Innovative Possibilities: Here's What You Need To Know Advertising Agency Software

Here's How to Build Strategic Approaches with Online Advertising Agencies
The list is fairly interminable, nevertheless you should always interpret website designs and advertising strategies from the perspective of the buyer.
SIX Influential Advices to Building Testimonials That Sell Your Products or Services Fast

SEVEN Critical Facets of an Imaginary Logo Strategy
The common question for each venture is, "How could we make this easier for customers?"
By accentuating this method, you will overcome several difficulties you face on the net and avoid wasting your advertising budget.
Disclaimer

This information is for Learning purposes only. We are indeed not financial/legal mentors. It should not be considered legal or financial advice. You should consult with a financial/legal advisor or other professional to find out what may be the optimum for your individual needs.

Please do your own research.