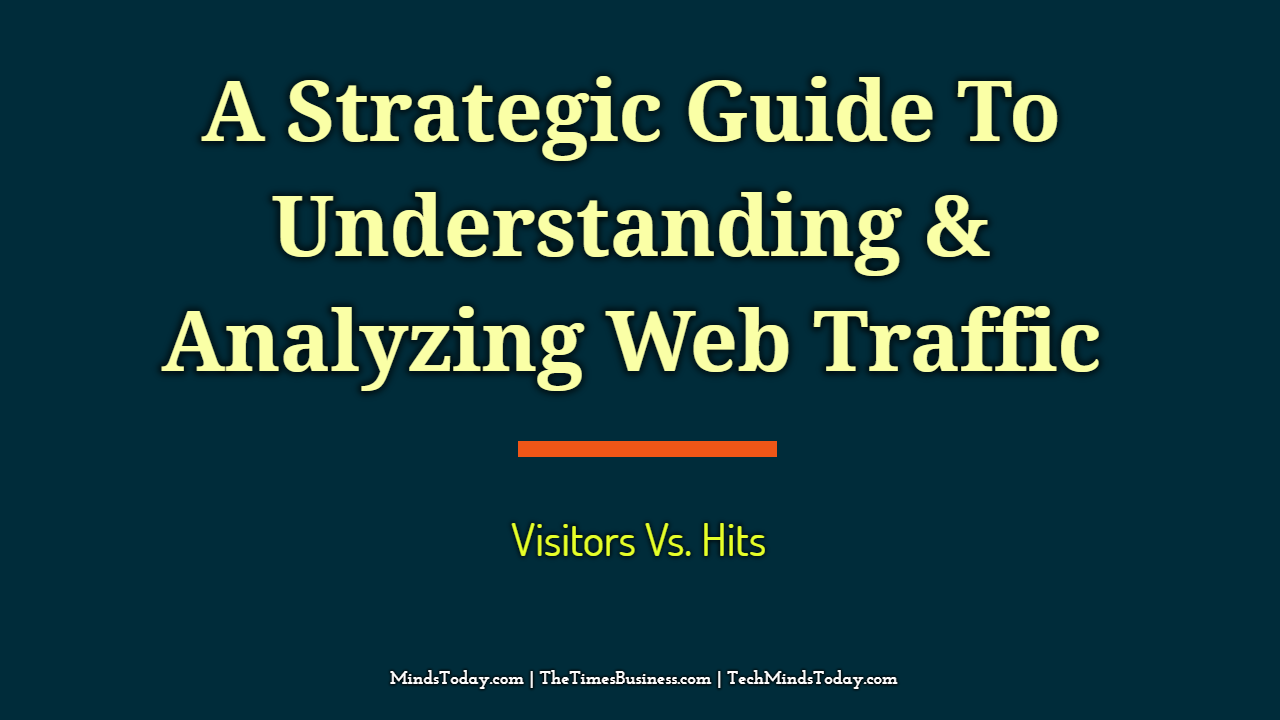 For any business website, the traffic analysis is considered one of the key elements due to its potential in categorizing the audience or visitors based on geographic location, age, gender and so forth.
When analyzing website traffic, it is important to understand the difference between hits and visitors. And most importantly it is highly suggested to have a clear understanding about why both are important.
Be One With The Log
As part of traffic analysis, you should be looking at your server logs. Server logs come in very raw data, but most hosting companies have interpreting programs that summarize the information into readable form.
From these programs, you should be able to analyze who is sending you traffic, the number of hits and visitors among other information.
Hits vs. Visitors – The Method Is On..
Many people in this arena spend insufficient time when it comes to understanding and discussing traffic results.
We normally tend to use "hits" as a catch phrase for traffic hitting a website. This isn't completely correct. Traffic should always be analyzed in two categories, hits and visitors.
The Impact of Product Life Cycle & Customer Buying Behaviours On Strategic Advertising Practices

How To Create A Genuine and Professional Impression On Your Brand Through Strategic Advertising Campaigns

Relationships Vs. Business Decisions: A New Perspective In Strategic Advertising
A "visitor" is a click from someplace on the internet to your website. In your server logs, a visitor will be credited with visiting the site one time regardless of the number of pages the visitor views.
For example, a person entering a brick-and-mortar grocery store is only one potential customer regardless of the number of goods the person looks at.
A "hit" is a click on any page of the site and represents a multiple of the visitors. When you review server logs, the hits represent how many times visitors clicked site pages.
Going back to our grocery store example, every good viewed by the person in the grocery store would be a hit.
A Basic Guide To Receiving Online Payments From Payment Processing Firms

Patterns of Tasks & Innovative Possibilities: Here's What You Need To Know Advertising Agency Software

Here's How to Build Strategic Approaches with Online Advertising Agencies
So, which information is more important?
 Hits v. Visitors –  The Front-runner Is..
The fact of the matter is both visitors and hits are important statistics to analyze in your server logs. Clearly, the information on the number of visitors is important for the reason that you want to know how many potential customers are coming to your website. That being said, you should never focus on visitors without anticipating hits as well.
Hits are very important because the number of hits gives you significant information about your website.
Since hits signify the total number of pages viewed by all visitors, you can use the information to determine the effectiveness of your website.
We can call this by the very original and sophisticated name "hits to visitors ratio."
Now let's go back to our grocery store example.
Assume a person walks into a store and only looks at one item. This may mean the person knew what they wanted, found it and bought it.
Noticeably, this is a perfect outcome. But what if a thousand people walk into the store and only look at one item.
item each? The store would have a problem and start trying to figure out what it is. The hits statistics on your server tell you the same thing.
If your website has several pages, you then are required to find out whether or not visitors are clicking into the internal pages.
This is commonly known as determining the depth of your website. The modest approach to perform this is to divide the number of hits by the number of visitors for a particular time period. This particular figure will tell you if people are seeing one item or taking a look around.
Evaluating your server stats can be a highly effective method to understand what exactly is going on. More importantly it will help you to take adequate steps for further developments.
The data you discovered from this particular process can be negative or positive, nevertheless you will have a sophisticated knowledge about the entire process, and that will help you in taking corrective steps for further improvements.
Disclaimer

This information is for Learning purposes only. We are indeed not financial/legal mentors. It should not be considered legal or financial advice. You should consult with a financial/legal advisor or other professional to find out what may be the optimum for your individual needs.

Please do your own research.