The Tata Best Practices Programme is a unique initiative that connects Tata companies across the world like never before. It leverages the power of collaboration so that companies can learn from other in the Tata group.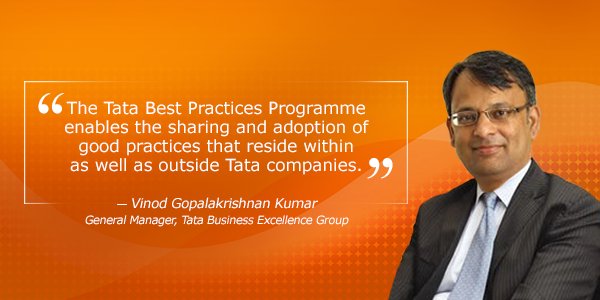 Vinod Kumar, General Manager, Tata Business Excellence Group, who leads the Tata Best Practices Programme, gives an in-depth view into the thought behind the programme and how Tata companies are benefitting from it.
Considering the diversity of the group, what kind of Learning opportunities are offered by the Tata Best Practices Programme – EDGE?
The Tata Best Practices Programme enables the sharing and adoption of good practices that reside within as well as outside Tata companies. Various mediums are used for this kind of sharing, which include face-to-face sessions, webinars, a comprehensive portal as well as customised workshops and benchmarking studies. So, through Learning Missions (which are face-to-face), participating companies as well as employees get an opportunity to visit Tata companies with good practices and learn about their implementation, ideation, etc. The idea is to enable cross pollination.
The EDGE Webinars are an example of how a good practice can be shared by one company to hundreds of Tata employees at once, cutting through geographical barriers. These are weekly one-hour sessions with an SME of one Tata company, which allow participants from other companies to learn about good practices in that company. In addition to this, the EDGE portal serves as a repository of good practices from various Tata companies, and can also be used as an Enterprise Social Network for the Tata group, connecting Tata employees across the group.
The Best Practices team also conducts various workshops and benchmarking studies in certain areas of interest for Tata companies. We are also trying to include conversations around good practices during the site visit interactions during TBEM Assessments, so that opportunities of learning are created.
The Tata group has more than 100 companies under its aegis. Considering the diverse areas of function and geographies, what kind of thinking went into the creation of this initiative?
It is not an easy task, let me tell you. In a sense, the Tata Best Practices Programme is a Knowledge Management programme for the Tata group, but there is a difference. In an in company KM programme, the focus is in creating knowledge assets that will increase the marketplace competitiveness for the company. The needs can be defined relatively more sharply there, whereas at a group level, the needs are so very diverse and hence the best practice programme needs to be more broad based and inclusive. To create opportunities that would have a high reach and high impact, we have come up with a mix of virtual and face-to-face opportunities for interaction. In terms of knowledge assets, we have created structured documents, which you will find on the EDGE portal. We also wanted the EDGE portal to serve as an Enterprise Social Network for the Tata group, so we have integrated features which would facilitate narratives, questions, blogs, etc. Such a multi-pronged approach has helped us meet the needs of many Tata companies with a diverse range of interests. Of course, this is a never-ending journey, so we will continue adding and tweaking offerings according to the needs of Tata companies.
The Tata Best Practices Programme has touched many Tata companies till now. How would you say Tata companies have leveraged this opportunity?
In the two years that the Tata Best Practices Programme has been formed, we have witnessed an enthusiastic participation from various Tata companies, be it in sharing their practices or participating in various programmes. Close to 50 companies have shared practices, whereas 75 companies have participated, so I would say it is a very healthy balance. If you look at statistics, you will notice that Tata companies have wholeheartedly embraced the opportunities created by the Tata Best Practices Programme.
At the end of all the interactive sessions, participants are keen to connect with SMEs to learn how to implement the good practices in their own companies. For instance, post the Learning Missions, Tata Communications employees used some ideas from Titan's retail design and distribution practices; participants from Tata International took inputs from Tata Power on managing external communication; Tata Steel Europe took back ideas from Tata Power on Strategy deployment and risk management. We have seen many such examples and are happy to have facilitated such learning and sharing.
Having said that, there is a lot more that needs to be done – we are still at a nascent stage and have many plans for the coming few years.
What are the top 3 challenges that you have faced in your journey up till now?
Since this is a new programme, spreading awareness amongst the more than 6,00,000 Tata employees is a huge challenge. We have reached out to key people in Tata companies to create advocates who will spread the word and motivate their colleagues to participate and contribute. The nodal groups in a few companies like Tata Motors, Tata Steel Europe, Tata Technologies, Tata Power Delhi Distribution, have put in a lot of effort to create awareness.
Secondly, due to the diversity of the Tata companies, it was difficult to convince people that they can learn from a company with a completely different Industry, size, location, etc. Of course, the exact practice may not be lifted and implemented exactly – however, with some tweaks, good practices can be made suitable for the recipient company. There have been instances where ideas have been taken by companies from a very different Industry and implemented.
Lastly, engagement with the SMEs and making their expertise available to companies has been a challenge. The EDGE portal provides a wonderful opportunity to do this, and we are trying to constantly engage SMEs in conversations and blogs to utilise their expertise. Once this connect is made, I think there is a tremendous opportunity for Tata colleagues to derive mutual benefits.
Going forward, what do you think will be the contribution of this initiative towards the Tata group's Vision 2025?
In my view, there is so much knowledge within the Tata group, that by simply learning from other group companies, we will be much nearer to our goal. One of the main objectives of the Tata Best Practices Programme is to increase collaboration so that we collectively move forward. If we are able to create more velocity in interactions and learning between Tata colleagues and companies, we would have played a small part in the achievement of our Vision 2025.
Source: TATA Business Excellence Group